Cold Weather Health and Safety Tips to Protect Your Kids
Every season has its health and safety hazards and winter is no different. Whether you love it or hate it you must make your way through the cold weather season taking every step possible to keep healthy and safe.
You want your children to enjoy all that winter has to offer but you also want to keep them as well protected as possible. Here are four tips to help you do just that:
The sun shines during the winter just as it shine in the summer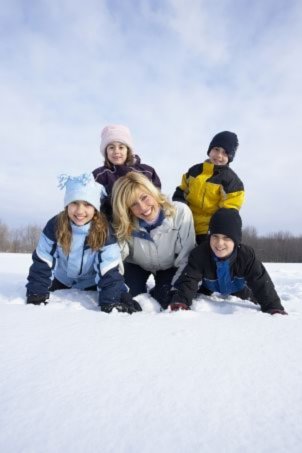 During the winter the temperatures can get very frigid. You may think that sunscreen is not required during the colder months when there is snow on the ground but that is not the case. Do not put away the sunscreen in winter because your kids still need it when they play outside. Snow reflects more than 75 percent of the damaging UVA and UVB rays from the sun. Put it on your children's delicate facial skin before they head out with their sleds or their plans to build snowman.
You need to bundle your kids up in appropriate winter wear
when they go outside but you do not want them so snug that they can hardly breathe or move. Their outer wear should fit their bodies properly but it should not be so tight that it restricts their movements. This is as true for clothing as it is for footwear. Socks and/or boots that are too tight can constrict blood flow and this can lead to feet that are even colder and very uncomfortable. When you take your child to the store to buy new boots it is best to shop in the afternoon or evening. When sizing the boots allow sufficient room for an extra pair of socks.
Be smart about the choices of clothing you pick for your kids
It is wise to dress them in layers when they head off to school or go outdoors to play. Choose outdoor jackets and snow pants that are waterproof and windproof. Cotton absorbs sweat and works well as the layer closest to the skin and wool works well as one of the other layers. But do not choose garments that are made of a scratchy wool or are too heavy as this will make your children sweat too much and will make them downright uncomfortable. Wool is a good insulator and it is also flexible and durable. The combination of layers of cotton and wool will help to keep your children warmer and dryer (and therefore more comfortable and less likely to complain!).
Make sure that your children have the right protection for their face, hands and neck when they leave the house. Invest in good quality hats, mittens and scarves. To save time when you are getting your kids ready to go outside keep winter garments in the closet nearest the door and store mittens or gloves and scarves inside of the hats.
Teach your children about outdoor safety
Especially when they are playing in the yard and also participating in winter sports and activities such as skating, skiing or sledding. Be there to supervise your children and make sure you have tissues and dry mittens on hand. Limit the time your children play outdoors in accordance with the temperature of the day.
Only allow your children to skate on ice that has been deemed frozen enough to skate on. Make sure that the sledding paths your kids use are in safe locations. They should not be too close to the road and they should not be too crowded with kids.
Purchase sleds for your little ones that are as safe as possible. The types that can be steered are the smartest choice. If you child wants to snowboard or ski then it is probably a good idea to find an instructor who can provide them with lessons. In that way you will know that they have been taught properly.
When they do get out on the slopes to do these winter activities helmets should always be worn as well as gloves with built-in wrist guards.  As well the child should always be accompanied by an adult. If you or dad cannot do it then find a trusted family member or friend who can.