Simple Halloween Favors
Halloween has always been a favorite holiday around here. It has become more fun in the past years with little kids around to dress up and introduce the holiday traditions. Halloween parties are always fun, and more and more are happening that are really family friendly. Here are some fun ideas to liven up your own party or to take to a friend's party to have some fun. These are all easy ideas that can be made with items on hand or some from your local dollar store.
Spider Ice Cubes
A great and easy favor is to buy the small spider rings that are everywhere during the Halloween season and make them into ice cubes! There are the tradition
al black ones, but I have also seen assortments of spider rings in many colors. I found a bag that had some purple, green and orange mixed in with the black! Use your imagination! There are often bags of goodies that you can find at the store, it doesn't have to be limited to just the spider rings. Just make sure whatever favor you pick, you choose one that won't get ruined being soaked in water.
The ice cubes are made in a regular ice cube tray you most likely already have. Just place one spider ring in each ice cube section and pour water over! To make it even more fun, I will often use the juice or punch that I plan to use at the party and make ice cubes out of that. So when the ice melts, instead of watering down your juice, it just adds to the flavor. There are many recipes floating around online, so use your creativity. But this is a great and easy way to add some fun to your party.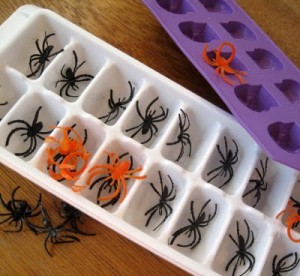 Ghost Lollipops
Another fun treat that you can use for a party or even trick-or-treaters is ghost lollipops! This is an easy craft that you can get kids involved in making. You just need some suckers from the store, some white fabric (or tissue paper), some ribbon, scissors and markers. The squares need to be big enough to cover the suckers to make their heads with enough leftover to make the body. You will tie your ribbon blow the head of the ghost and then add a face with the markers! This is an easy and fun craft that has been around since I was little.
Whatever your Halloween plans end up being, these are easy crafts that can be done with some cheap supplies. That is always a bonus when planning for a party, or for special treats to be handed out to trick or treaters. Even if you don't have a party, it would be fun to make the ice cubes to have for a special Halloween dinner! These ideas can be used any time of year, just swap out the spiders for another fun prize and accessories can be added to the ghost lollipops to make them almost anything! Just remember to have fun!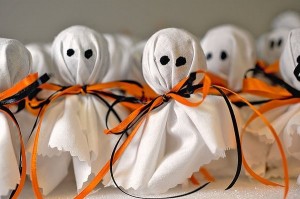 Written By: Gena W., The Mom Crowd Contributor