"Sticker… Chart??"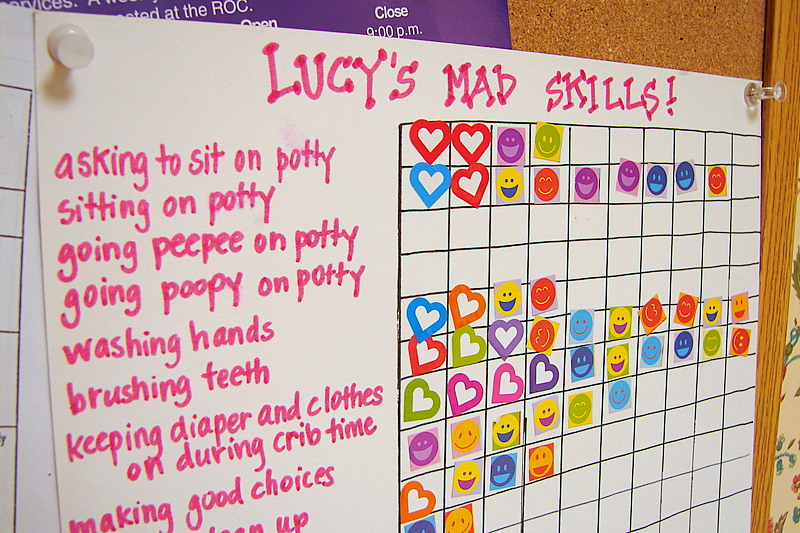 This is one of Lucy's newest questions to ask when she does something well. Two weeks ago, we started using a sticker chart as a reward system for accomplishing small but important tasks. I decided it was worth a try, because our main problem was (and sometimes still is) getting her to keep her diaper on during naptime. For a few weeks, she would get into the crib and within minutes remove the diaper. If you've experienced this you know it's enough to make you crazy!
Off the top of my head, I made up the chart pictured and listed the things that her dad and I would like to see her do without a fight, such as help clean up the toys, brush her teeth, and wash her hands. She has not taken to potty training yet, so we added several things relating to that area as well, recently adding "sitting on the potty without a diaper". For each success, she gets a small sticker to put in the box. If she completes an entire row of stickers, she'll get a prize. For now, it's not hard to please her, so her prize is simply a larger sticker, which she wears on her shirt proudly. When she's older, we'll probably put together a little reward box and fill it with trinkets from the dollar store, and she can choose from that what she'd like to have as a reward.
We have seen this process work for us in numerous ways. A few evenings ago, I asked Lucy to brush her teeth, and she said no. I reminded her that she'd get a sticker on her chart if she did, and she promptly scooted herself into the bathroom and got to work. It was great to witness. We've also seen a general willingness to ask about the potty and to follow through with sitting on it – prior to the chart, it was as if the potty didn't exist. So we're hopeful that this trend will continue, and make the task of potty training a little easier in the future.
Here are links to more tips, charts, and ideas:
Free Printable Potty Training Charts and Certificates
Printable Certificates & Rewards
Spotlighting Good Behavior on iVillage
Have you used sticker charts or reward systems with your children? What worked for you? What didn't work?