The Importance of Health Checks for Our Kids
Putting off annual exams and blood work puts your health and your children's health at risk. Visits and checkups can prevent chronic and risky disease from spreading or worsening, and let unchecked, these types if illnesses can negatively affect the health of children, especially. You can become informed of any problems before they advance. Getting a simple checkup once a year for yourself and the kids is the easiest way to ensure that you stay healthy.
Getting Blood Work
Blood work can detect high cholesterol, mineral and vitamin deficiencies, infections and even heart-related conditions. A blood panel can also determine whether you may have diabetes. Getting yearly blood work is the only way to ensure that all of your numbers are where they should be. You can find discount blood work online to save money on this costly necessity for your health. Think back to your family and relatives – has there been any blood or immune-related illnesses that might be present in you or your kids? A simple checkup can reveal some answers.
Physical Exam
A physical exam is a good idea for patients of all ages, especially for kids thinking about joining sports. Making sure your body is in tip-top shape will allow you to avoid unwanted illness or injury. An exam usually tests your bones, vision and addresses other concerns you may have for your health. Dealing with kids around the clock certainly takes an emotional and mental toll on even the most fit and active mothers, but physical fatigue is just as common, and typically pushed to the back burner.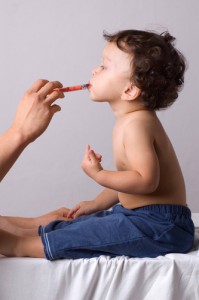 Preventative Shots
Vaccinations can make a world of difference in preventing health problems, and can prevent any number of sicknesses or illnesses with you or your kids. Most adults don't need to worry about getting shots, but there are some that certain groups should always get, like young children, those working around young children, the elderly, and those with weak immune systems, to name a few groups. A flu vaccine is especially useful during flu season for the elderly and children.
Understanding Your Health
If you never go in to see the doctor, then you won't know if any health problems crop up. A majority of serious health complications have no symptoms. This includes heart disease, high cholesterol and even STDs. A simple checkup can make a huge difference in your quality of life, and for the life of your kids. Oftentimes, children do not know or do not care if they are not feeling well, and could be potentially damaging their tired bodies and immune systems even more. The cost of preventative care is much lower than the cost to treat severe conditions that have been able to progress.
Saving Money
You can save money when you participate in simple checkups each year, and many families with health care don't even have to pay more than a small deductible. There are specific tests needed for certain groups of people at different intervals. Most adults need a cholesterol screening every five years. Overweight or at-risk individuals may need them more often. Mammograms are recommended for women over 40 every two years. These simple check ups can save tons of money, time and stress if they are taken seriously.
Don't put off your health checkups. Doing so can result in sickness that may be debilitating or costly to treat, and lifelong sicknesses for children left untreated. If you want to prevent disease and illness, then go to that one or two hour appointment once per year. Don't risk your health – be active in staying healthy.