TMC Contributors in Training for the Rock & Roll San Antonio Marathon & Half-Marathon!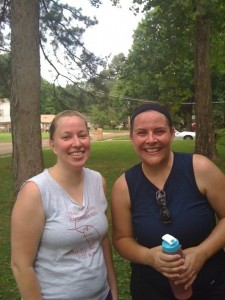 Amanda and I are stoked to share with our readers that we have been preparing diligently for a big day:  November 15!  About two months ago, I was invited by a friend (a fellow mom of two toddlers) to do the Rock & Roll San Antonio Half Marathon.  I immediately pounced on the idea because I used to live in San Antonio and have been itching to go back.  I talked with my hubby about it and we decided to make it a family vacation this fall.
By mid-May, I was pretty overweight.  I hadn't been running with any consistency for some time, and I was feeling utterly gross.  Slowly, I started running a bit more, two or three times a week.  By the end of June, I was making time for my treadmill runs four days a week.  The half-marathon trip to San Antonio was exactly the motivation I needed.
In the meantime, I decided to invite more friends to join us.  After about a week of discussion, I was so excited to get two more dear college friends on board.  We all have formed a very tight-knit accountability and encouragement team in pursuing this goal.  I have been running frequently to improve my endurance, strength, and speed, and my pals (who are beginners) have been training their bodies to be ready for the start of "official" training.
Training starts next week!  We are using a 12-week schedule for beginners; it is the same schedule I followed last year.  Amanda recently led us to another training calendar by Hal Higdon, and I think I might seek to strike a balance between what I have done and what he suggests.
I am feeling energized, enthusiastic, and happy about the whole thing.  Between now and November 15, I will be running 4 times a week at varying distances, and I couldn't be happier to have an exercise goal and routine back in place.  And to do it with friends is that much sweeter.
Amanda here
When Dawn mentioned that she was coming to my hometown to do a Half Marathon I thought, why not run a half marathon too? About 3 years ago I trained up to 11 miles for a Half Marathon, but pulled my calf muscle 2 weeks before the race. Now 2 kids later and ready to get rid of my post-pregnancy weight I was on board to run again. Then I was researching for this post on running I came across a training schedule for a FULL marathon and I thought, "I can do this!" So I signed up to run 26.2 miles on Nov. 15th. You can read the full explanation of how I decided to run the full marathon here, but here are a few reasons.
I have always wanted to run a marathon and why not now? I want to stop saying "Someday I will do…" Someday is NOW.
I am turning 30 in a few months and thought it would neat to run a marathon for my 30th birthday.
I have no reason not to run one now. I am not planning on getting pregnant any time soon. My husband can help with the kids and all my friends are either running or will be there to cheer me on that day.
I can do it!
I am following Hal Higdon's Full Marathon Training Schedule Novice 1. This past weekend I ran 12 miles. I was supposed to 10, but I decided to run with a group that was running 12. So far in 6 1/2 weeks I have ran a total of 100 miles.
When I get out on the road to run a few miles I do my best to enjoy the time away from my kids. It is peaceful and a joy to listen to music. When I get in a slump I remind myself to enjoy running and it never fails to work.
Check out our Running page for more information on running your first 5K and other runner inspiration.
Have you ever run? What work out brings you joy? What music gets you through a run?