What I Learned From Last Summer's Vacation – How to Have an Incredible Vacation On the Cheap
Last summer, I took one of the most interesting vacation trips I could ever go on. I took an RV trip with the kids from Phoenix to San Francisco. . As a full-time writer, I have the distinct advantage of being able to work from any location. So one day in late May, I called my parents up and asked to borrow one of their two used class B motorhomes. I explained my idea, "Yes, Mom, I plan on taking my two kids on the road for the summer, stopping here and there and getting to know the country."
At first, they thought I was a little crazy, a single mother with a somewhat limited income, on a road trip in a large RV with two kids. Was I crazy? Well, I admit, at first I was a little scared, after all the biggest vehicle I had ever driven was a van. However, I was determined to spend some quality time with my kids, and do it in an inexpensive way.
The Trip
We started off at about 5 a.m. at the beginning of June. Our destination? The Grand Canyon of course! It was only three hours away, but the kids had only been to Phoenix, so it was a great opportunity to see the Grand Canyon. We stayed at Trailer Village, an RV campground located on the South Rim of the canyon. We had planned to only stay overnight but ended up staying a few days. We spent a day rafting down the river, another walking along the trails in the early morning and evening. Other than that we just spent some time being together, playing in the pool and talking.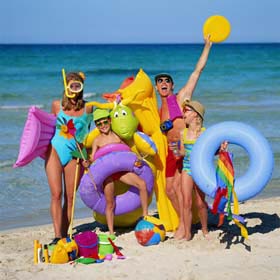 Las Vegas
Las Vegas was our next destination. While I knew the kids couldn't spend time at the casinos, I also knew there were many other things available there. I planned out our trip so that we could stay at the Circus Circus RV park. The kids enjoyed the lights, the action, street vendors and shows. During the day, we toured some of the most fabulous hotels along the strip including, the Venice, the Eiffel Tower hotel, and the Excalibur. I had only planned on spending a night here, but we ended up spending the better part of a week. We took in a cirque du Soleil Show, went to the Ethel M Chocolate factory and to the Red Rock Canyon just outside of Las Vegas.
What Trip Would Be Complete Without a Visit to Disneyland?
Our next destination was Los Angeles. We stayed at several locations in this wonderful city. There is just so much to see. Our first stop was Hollywood Blvd. and then Universal Studios, but we also visited Venice beach, Santa Monica and Long Beach before heading over to Anaheim, Disneyland and then down to the San Diego Zoo.
Along the California Coast
Our trip continued up the California coastline driving along scenic highway 1. When we saw something that interested us; we would stop, play, eat out or fix something in our temporary home and enjoy our time together. We saw interesting state parks, theme parks, towns and communities. We met other RV'ers, just out having a good time like us, some actually adopting the lifestyle full time, then we made our final destination of San Francisco.
San Francisco Area
While in San Francisco, we visited family and stayed in the California Delta, an area full of waterways; meaning there were lots of RV parks, camping, skiing, rafting and boating. San Francisco is only about an hour from the Delta, so we made several day trips to the city by taking the Bart train. Needless to say, the rest of our vacation was spent languishing about, relaxing in our RV and enjoying ourselves. It was truly the best family vacation we have ever been on (inexpensive too).