Bed Time For Baby
Consistency is key for most endeavors where children are concerned, bedtime is no exception. When it comes to getting your little one to sleep, you will want to make a routine that both of you will love and stick to every night. Although I can not guarantee this will make a seamless transition into slumber all the time, I can say that your child will be cozy in bed at roughly the same time every evening, which makes for a happier mommy and baby in the morning.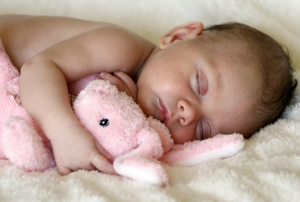 Every child is different, of course, but it is widely excepted that young children should be put to bed around seven and eight PM. This was a natural time for my baby boy to go to bed, in fact, putting him to bed any later usually gets me wrestling with a grumpy bear throughout our entire routine. Your routine can be anything that works for your family, but I would like to share what works for us.
We usually start to wind down around one hour before our boy needs to go to sleep. We cut out anything that is super stimulating like his noisy toys in an effort to get him somewhat calmed as we transition into his bedtime routine. Even though, by now, our son knows what to expect, we also talk him through the separate events in the routine. For example, we might tell him, "Now we will have dinner and then we will take a bath." That way once we are done with dinner, there is no surprise about having to get in the bath.
If both of us are home during bedtime, one of us will prepare his bath and bed while our baby finishes his dinner, otherwise, we carry him along with us and as said before, we tell him what we are doing while we do it. After bath, we take baby to his changing table for a fresh diaper. We often time give him a little lotion massage before putting on his pajamas. We also use a noise machine to create a background sound that cancels out any noises that may be happening in our house or neighborhood, not everyone is in on our bedtime routine, so we have to make due.
Our son has favorite stories that we read nearly every night. As he has grown, we make reading more interactive by asking him to point out characters in the book or show us colors as we read. It is fun and an easy way to work on his vocabulary during these precious moments. Our boy also enjoys a small sippy cup of milk while we read and relax into bedtime.
Once the story is over, we turn down the lights and get into our cuddle positions. Our family has adopted a co-sleeping method. Our son shares a family bed with us. It might not be for everyone, but we enjoy this closeness. From here we hand deliver our little one to dreamland by laying with him until he drifts off. We sometimes sing or hum to him as he fights his last attempts to stay awake.
This routine takes about an hour start to finish and with any luck, he goes to sleep without any cranky fussing. On a good day, this is still my favorite time with him. I love to catch a look at his angelic face as he slips into sleep, it is just about the best feeling in the world.