Getting Out of the House Quicker
If you're anything like me, getting the kids moving before school is exhausting. From the moment the alarm goes off, I feel like a drill sergeant telling them to stop talking, quit day dreaming, or hurry up and finish eating. It's a true nightmare just to get them to school on-time and for me to face my morning commute to work.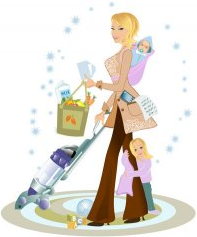 Although not fool-proof, recently I've found some things that have helped our family come closer to an overall successful track record (with less yelling on my part ).
Verify the next days weather and lay out clothes the night before. My pre-teen daughter is notorious for last minute wardrobe changes, so she prepares two outfits to choose from.
For breakfast, I actually have the bowls and spoons out/ready to go, along with oatmeal packets or their preferred brand of cold cereal. That way, when they come downstairs, they can choose which they'd like, and I simply heat some water up or grab the refrigerated milk (along with their gummy vitamin).
Backpacks are now neatly placed by the door to just grab on the way out to the car. They used to be scattered wherever homework was completed just yesterday.
Another trick is to set their bedroom clocks for 5-10 minutes earlier than the actual time. This helps settle them into bed earlier the night before and those "extra" minutes can be spent perfecting their hairstyle of the day, swapping out matching accessories, or getting that tank of gas you were too tired to stop for after work the other day.
I hope some of these tips allow you to maximize your morning routine (if not be a lesson to your children on organization and structure). What are some of the things you do to get out the door faster in the morning?