Helping Your Child Read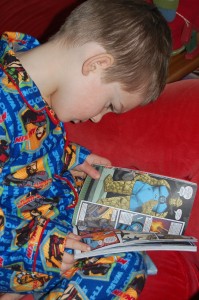 Learning how to read is a major milestone that children pass during their first years of school.  Reading doesn't come easily for every child. Some children are eager and want to learn how to read.  They ask their parents to teach them.  Some are more interested in playing outside than taking time to sit down and learn all the letter sounds and sound blends.
I have 2 children who are beginning readers.  My 5 year old, Isaac, taught himslef how to read when he was 4.  As a 2 year old he was very interested in letters and would play with his Little Touch Leappad  everyday to learn all the letters because he enjoyed it. During preschool last year he got a stronger grip on the letter sounds and figured out on his own how to sound out and read consonant-vowel-consonant words.  He also remembered words and what they looked like and even skipped over having to sound out each sound in a word. He did all those things without much help from us.  He would often surprise us when he could read words like "dragon" or "think".  His older brother, Ewan, wasn't as interested in letter learning and preferred to spend his time doing other things.   During his preschool he learned all the letters and their sounds too but it didn't excite him as much.  Now that our 6 year old is in public school and is learning how to read we are discovering that reading doesn't come as easily for him as it did for his brother.  I think he is average for his age and that it will click with him in time.
Here are some tips I've discovered in our (short) journey in helping our children read:
1) Don't force it.  Most children will start reading and showing interest when they are ready.  Putting pressure on them will only give them a distaste for trying.  When Isaac (the younger) started reading before Ewan (the oldest), I felt like Ewan should be catching up with him simply because Ewan is older.  It took me a while to relax and realize that children learn differently and at different paces.
2) Get some early reader books.  We have a set of books called BOB Books that we like a lot.  They are very short and when a beginning reader can read it they feel accomplished.  There are several "I Can Read" books available for more advanced early readers too.  Jack and Annie Magic Treehouse books are also good books for (more advanced) early readers.  The stories are interesting to keep kids engaged and reading on their own.
3) When teaching your kids the letters of the alphabet spend more time talking about the letter sounds than the letter names.  When it comes to reading the letter name doesn't matter as much as the sounds it makes.
4)We've used the book Teach Your Child To Read in 100 Easy Lessons.  I like this book a lot and it has helped Ewan make progress in his reading skills.  We are only on lesson 26 now but I've noticed a difference.  Before school started we were doing daily lessons but since school is in session it is more difficult to do it everyday.
5) Practice reading everyday.  Even just 10 minutes a day.
6) Read to your children everyday.
7) Try an online program to teach phonics and early reading skills.  Starfall is a GREAT pre-reading website for kids.  Explode the Code has an online program that is interactive and fun for kids.  Explode the Code teaches phonics and reading.  A one year subscription costs $55 and is worth the investment.  Explode the Code also has workbooks that children love and the online program in based on the workbooks.  We bought a subscription for our homeschool this year and both boys spend time on it several times a week.  I have found that since Ewan is in public school he is more excited about coming home and doing some Explode the Code online than he would be at doing a workbook.  The online program monitors their successes and automatically adjusts the lessons to their difficulty level.  BBC also has several games and reading activities online that you can have your kids play.
8) Praise their efforts and willingness to try a new reading challenge.
What have you done to encourage your kids in their reading? What challenges have you overcome?