My 6 Year Quit Sucking His Thumb!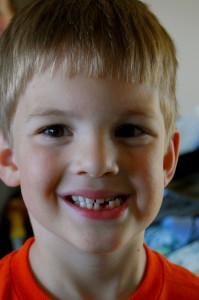 My 6 year recently lost his second tooth.  With the new tooth growing in I became more aware that his thumb sucking really needed to come to an end. Once he started losing teeth I started seeing $$dollar signs$$ about future dental visits and braces and it was very tempting to try and have a more tight fisted attitude about him quitting.  I casually mentioned to him that his teeth would start growing in incorrectly if he kept sucking his thumb and that it was probably a good idea to stop.  He said "okay" and we came up with a plan.  I don't have a formal chart but we have decided to let him have a special fizzy or juice drink on the weekend if he keeps the thumb out of the mouth during the week.
He started sucking his thumb when he was a baby–around 2 or 3 months old.  As he got a little older, his pattern for sucking his thumb was to hold his blankie, rub the satin on his nose and suck his thumb at the same time.  I was worried that maybe we would have to get rid of his blankie and all things satin since for him, seeing satin was a Pavlovian response: see/touch satin=suck thumb.  He was never the type who would just walk around with his thumb in his mouth or do activities while thumbsucking.  If he got bored he would go to his bed and have some "blankie/thumbsucking time".  Sometimes, but not always he would suck his thumb before falling asleep.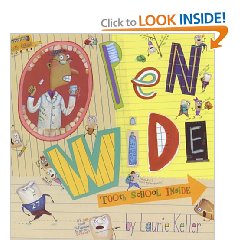 I think it worked to our favor that we read this book several times when we checked it out from the library: Laurie Keller's Open Wide: Tooth School Inside. If you have not read this book to your kids I do recommend it.  Our kids learned all about cavities and germs and tooth care from this book.  Laurie Keller has some really GREAT books that our kids LOVE–they have made them giggle and laugh many times.  I digress.
We asked the 6 year old if he could still rub satin on his nose and hold his blankie without sucking his thumb and he said he really thought he could. (Blankie will go away another day). We gave it a try and he did it.  Easy peazy-lemon squeezy as he would say.
I know that getting children to stop sucking their thumbs is not always that easy.  I have a good friend who made a chart for her son while he was in training not to suck his thumb.  He was more inclined to suck him thumb while watching tv or when he was bored.  He didn't have a pavlovian cue like mine did.  He gets a marshmallow at the end of the day if he succeeds.  Behavior charts seem to work well for kids who are learning how to stop sucking their thumbs.
In general when it comes to behavior change positive rewards work much better than shame and anger.  When it comes time for our 5 year old to stop sucking his thumb I think it won't be quite as easy.  He is like his brother in that he likes to snuggle with his blankie and suck his thumb but he seems more attached to it than the 6 year old.  Perhaps waiting until he is 6 will make a big difference to him and he will find it as easy as his brother.
Tips for helping children stop sucking their thumbs:
Behavior and reward charts
Praise when you see them succeed (catch them doing something right!!)
Don't yell or nag
Remember that peer/social pressures can work to your advantage. Once your children are school age and notice that their friends don't suck their thumbs they want to less and less.
If you find they suck more when bored keep a list or box of special activities to do when boredom strikes.
Stay positive yourself and tell them you know they can do it.
You can try the gross tasting stuff you paint on the thumb or a thumb guard to help if other methods haven't worked.
Have any thumbsuckers at your house?  What's worked for you?  Disasters? How old were your kids when they stopped thumbsucking?