Promotion Codes

Save 20% off of your order at Moon and Back Studios using promo code ' tmcgets20 '. The promotion will expire August 31, 2008.

Moon and Back Studios features announcements, invitations, personalized note cards, Christmas cards, calling cards, and much more. The super talented designer behind Moon and Back Studios, Myra, has designed my Christmas cards and my daughter's first birthday party invitations. The best part about Myra's services is that photo enhancement is included in the price. I had a favorite picture of my daughter for her first birthday, but it had a random guy behind my daughter's ear. She magically made him disappear and the photo looked awesome.
You won't be able to find Moon and Back Studios unique designs anywhere else. Myra is great to work with and she responds very quickly.
She just recently added calling cards to her repertoire. You can use your calling card to share your website with the people you meet.
Here is my daughter's first birthday invitation.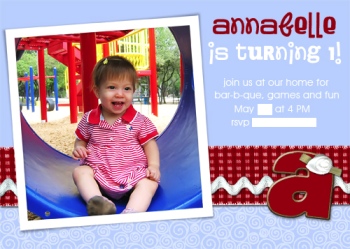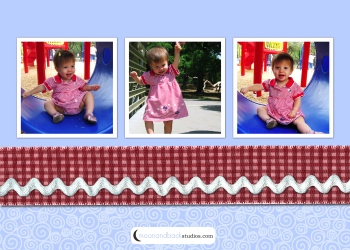 You can read a full review here.
You can read Myra's guests posts on The Mom Crowd here and here.
_____________________________________________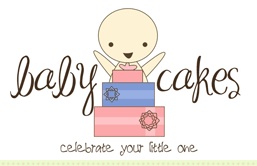 Save 15% off your purchases at Shop at Baby Cakes using the promo code 'momcrowd2′.
Our friend Sara at the baby boutique, Baby Cakes, is offering a special promo code to the readers of The Mom Crowd. You may use the promo code 'momcrowd2′ to receive 15% off any of your purchases.
Stop by Baby Cakes when you get a chance and check out these awesome items!
momAgenda Babysitter Info (I could have seriously used this a few times.)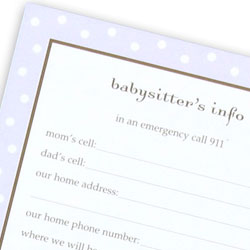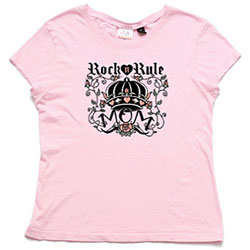 Green to Grow BPA-Free Baby Bottle Regular Neck 5 oz Bottle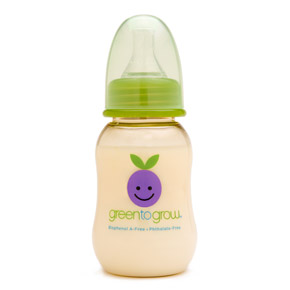 Lime with Raspberry Dots Peony Hat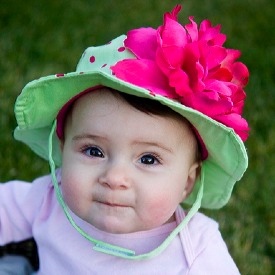 _____________________________________________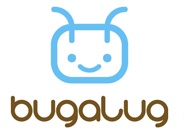 Get 10% off your purchases at Bugalug Baby by using the promotion code 'MCR10′.
My friend Staci put one of her daughter's headbands on my daughter while I visited her. I instantly loved it, because it was super cute and it fit Ace's head. The headband is from Bugalug Baby. Their headbands are two sided ribbons and have a clear, soft plastic toggle that adjusts the size of the headband.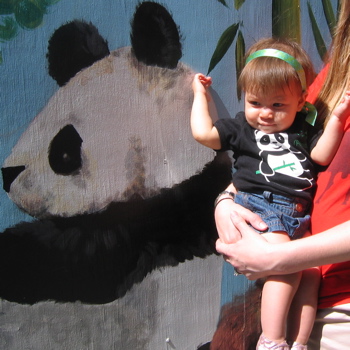 What I honestly love most about the headband is that it stayed in my daughter's hair the entire day, including a trip to the zoo. She never pulled it off her head once. She is constantly pulling out the smaller barrettes that I use. Also, I think it is easier to notice if she drops the headband rather than a barrette, because it so much more obvious it is gone.
I had a difficult time finding a headband or a bow for Ace's Easter photo. I looked at Kohl's, Babies R Us, and Target and I never saw anything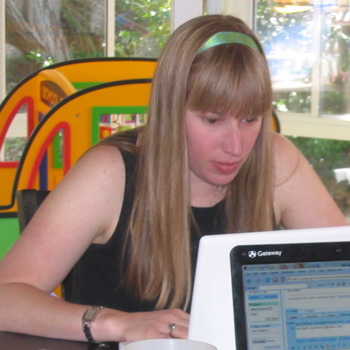 like this. I ended up getting a bow at a boutique baby store, because the headband I liked at the store was eleven dollars. The headbands at Bugalug Baby are eight dollars a piece which seems to be about the going rate for these type of accessories.
One thing that I also like about the headband is that it also looks cute in my hair. So I am ordering two that I would like to wear myself and share with my daughter. I get twenty dollars a month to feed my baby shopping habit. I know what I am going to spend my twenty bucks on this month.
When I told Bugalug Baby that I was going to mention them they graciously offered The Mom Crowd readers a 10% off promotion code! Just use the promo code "MCR10″ when you are checking out.
By the way, they also sell the coolest barrettes too.