The Working Mom Myth
This a guest post from my friend Myra who is the genius designer behind Moon and Back Studios. You can also find her blogging at WeMakeThree.com.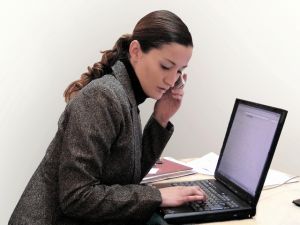 Some women work outside the home to keep their sanity. For others, it's not a choice. Working outside the home is a financial necessity.
Whatever the reason you may be working, there is one thing I have learned: You can't have it all. That's right. It's a myth. A well intentioned one perhaps, but it's simply not possible to have it all. And I believe many women are nearly killing themselves trying.
In order for me to give my best to the two people I care about most, and balance that with having a demanding job as an executive, I've had to make concessions. Here are some things that I am learning to do:
1. Learn to say no. That's right. You can do it. It was hard for me at first, but it's a muscle I've learned to exercise. Sometimes it makes people unhappy. But my family is better for it.
2. Be happy where you are. Sometimes success and acquiring stuff can be a mirage. There's always more to get. I've tried to learn to appreciate what I do have instead of comparing myself to others. Being thankful really takes the pressure off.
3. Separate your time. I have drawn a clear line between my work and family time. When I leave work, I call my husband for our ritual debriefing during my drive home. Then I try not to talk about it anymore.
4. Do one thing for yourself each day. When I get home, I usually take a half hour to run or walk so I can detox myself from the day. Then I'm ready to focus on family. I'm better for it.
5. Avoid the trappings of "mommy guilt". Just do your best and focus on your kids when you're with them. That's what they're going to remember.
Do you have tips for balancing career and family?