A Review of Phanfare: A Photo and Video Sharing Site
Phanfare.com is a private place online to share your photos and videos with your family and friends. I was asked to review the site by Rya, a friend of MommyZabs. Being that I love testing new software and have personal opinions about friendly user interfaces I couldn't resist checking out this new site.
Phanfare gives you 1 GB (about 1,024 MB) of free storage for your photos and videos on the site. Unlimited storage is available for $54.95 per year. I uploaded 16 photos and still have about 1,009 MB of storage left, but I am afraid that I would run out of space rather quickly. In my iPhoto I have about 14,000 photos. The free account is nice, but I feel like it is a hook to get you to buy the $55 package. Which wouldn't be a bad deal if you wanted to spend the money. Comparatively Flickr gives you 100 MB of free space each month and only the 200 most recent photos will be displayed. A Flickr ProAccount with unlimited storage and photos displayed is $24.95 per year. Phanfare does not offer any smaller packages, but I heard that they might be changing their pricing strategy in the next few months.
My favorite feature is that I am able to highlight the photos I want to upload in my iPhoto window and then drag and drop them into my Internet browser window. I don't have to browse and individually choose each photo to upload. Uploading 15 photos at one time took about five minutes. After every upload you do you are prompted to invite your family and friends. I found this a little annoying, but not a big deal.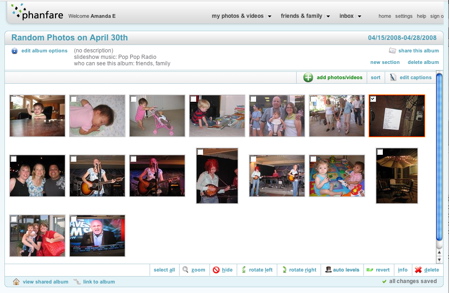 Once all your photos are uploaded into an album you can rotate, fix auto levels, zoom, and revert to the original. You can also choose a photo and manually drag and drop photos in the order you want them. You can also edit your album preferences. The entire site is incredibly easy to use. The default theme to show your photos is a nice black background.
One drawback about the album is that you can only comment on the entire album, instead of an individual photo. So if you want to comment about one photo you have to describe the one photo you are commenting on.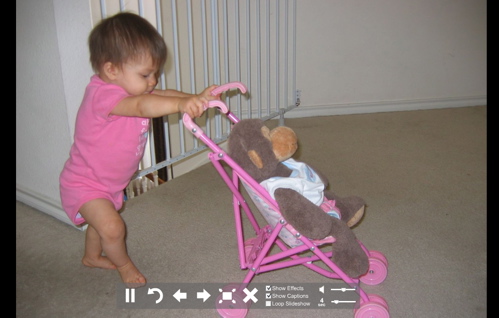 The slideshow is very nice and easy to control. There is a menu bar that appears if you hover over the bottom of the photo. The menu bar allows you to change some of the settings. The slideshow feature of my current online photo storage site looks amateur compared to Phanfare's slideshow.
I uploaded two small videos in my account. Phanfare automatically converts your video into Flash format to be able to be played on their site. It could take anywhere between 1 and several hours for them to finish converting your video. Even when I use Vimeo it takes them a while to convert my videos too.
Phanfare is affiliated with Shutterfly, Kodak Gallery, and Snapfish. It is easy to order prints of your photos. You will need an account with one of the three affiliates before you can order any photos, because it prompts you for your email address and password. You will get a great photo, because you upload the full quality of your photo. I currently upload photos at a lower resolution to be placed on a website, but they are not at a high enough resolution to print them as a 4×6. This is a great feature for family and friends to order the photos they want online (especially my mom!).
Finally, the biggest feature of Phanfare is their desktop application. It is available for both Windows and Macs. The desktop application allows you to:
* Manage your photos and videos locally while synchronizing your content to the web
* View and organize your photos at full size
* Upload large files faster and easier than on the web
* Edit and organize your photos and videos even when you are not connected to the web
* Choose from over 70 styles for your shared albums
* Add your own music to your slideshows
* Select the awesome Phanfare screensaver
You can also use the desktop application to embed photos and videos on blogs. This is important to me, because I really like the Flickr plugins on websites that give you mosaics of your photos and show your most recent photos.
There are many more features such as groups, sharing with your family and friends, and visitor reporting. The best feature is that it is private and you know who exactly is viewing your photos. There shouldn't be any concern for having your photos stolen. You may have heard about Sweetney's pug being used during a football game on Fox or the one where a girl's photo was stolen from Flickr by Virgin Mobile and used in an advertisement. Some of my photos are private and I don't want to show them to the world. Phanfare offers an intimate place online to share your photos without being completely public to the world.
Update:  
I have heard from Smug Mug that they offer a very similar service for $39.95 per year. If you want to shop around Smug Mug is another photo site to check out!
Do you use an online photo-sharing site? Which one? How do you like it? Do you have any privacy concerns?