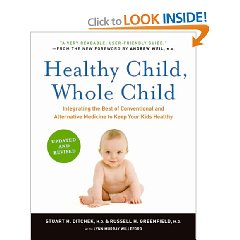 Healthy Child, Whole Child by Dr. Stuart Kitchek and Dr. Russell Greenfield is a book for parents who are interested in using both conventional and alternative medicine for prevention and treatment of illnesses.  The book is easy to read and the chapters are divided in such a way that if your child is dealing with a particular issue you can flip to the chapter and find out more information.
One think I appreciate about the book is that it takes a look at the WHOLE child, including environmental factors, activity levels, diet, and sleep.  It promotes that idea that preventing illness is a better strategy to healthy living rather and just treating every illness with the most aggressive strategy.  The doctors who wrote this book practice health care with the philosophy that integrating conventional (mainstream medicine), alternative (chinese medicine, aruvedic) and complementary medicine (acupuncture, herbal, or nutritional therapies) is the best approach to treating children and families.  They don't dismiss alternative and complementary medicine and often prescribe remedies from those forms of treatment for illness.  In fact doctors who practice the philosophy of integrative medicine prefer to save the more aggressive treatments of illness if the more gentle approaches to medicine don't work first.  They also prefer to have longer than 10 or  15 minutes with their patients.  In later chapters the book takes a deeper look at several types of alternative treatments (massage, chiropractic care, counseling, meditation/relaxation, herbal remedies, chinese medicine and homeopathics).  This is helpful especially if you are new to those types of treatment for sickness.
For those of you who are interested, the book encourages vaccination as one of the ways to keep your kids from getting sick.  Two chapters are dedicated to explaining how the immune system works, how vaccinations work and why they are important.  The book also explains why the overuse of antibiotics is a key factor in the "superbugs" that are now resistant to antibiotic treatment. One example is getting antibiotics for every ear infection.  A more integrative approach is to look at the evidence that most ear infections are viral and will resolve themselves in about 3 days.  The pain can be treated with over the counter pain relievers and perhaps a prescription pain reliever.  This approach can be stretching for parents who have it ingrained that an ear infection automatically means you need antibiotics to treat it.  The book has a whole chapter dedicated to explaining the different types of ear infections and how they are treated.
One surprising chapter is chapter 9 which is about how to protect your children from the hidden messages in mainstream culture–things like instant gratification, looks are everything, negativity, violence, sex and drugs.  I appreciate that they consider the messages children receive as something important to look at when viewing the health of a child.
This is a good introduction book for parents who want to learn more about how to think about how to keep kids healthy. It isn't a book that you use to try and diagnose what illness your child may or may not have.  The last third of the book DOES explain most of the common illnesses that kids get most often and ways to use both conventional medicine and alternative treatments.  Illnesses covered: headaches, ear infections, gastrointestinal "tummy troubles", reflux, colds and other respitory illnesses, allergies and asthma, and skin problems.  Also covered (briefly) are attention disorders and sleep issues.  In my opinion, both of those topics could be their own book when incorporating integrative medicine.
I have found this book to be a helpful resource on my bookshelf that I can pick up if we are dealing with an issue at home.  Like I mentioned earlier, this is a good intro book for anyone interested in learning more about integrative medicine.  It has a little bit of everything in it and can be handy to have around.
Happy Reading!
Do you use both conventional treatment and alternative treatment for illness?  Do you think homeopathics is a sham?  Have you thought about using a more alternative approach for treating illness?  What's worked for you?