Do You Sing to Your Children?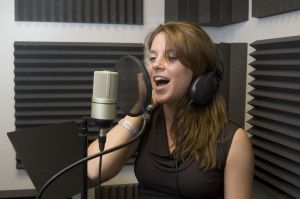 I am a horrible singer. I have the ability to sing, but not always on key. Thankfully my kids don't care. My 2 year old daughter doesn't sing in tune either and we sound like a mess singing together. I enjoy singing to my children and with my children, but sometimes I get embarrassed singing around other adults, including my husband.
When my first was a tiny baby I made up a song to help soothe her. I have never sang it in front of my husband. We call it "the secret song." I now sing "the secret song" to my second baby. Maybe it is silly and I should get over it, but I kind of like the bond it creates between me and my babies. Now this song is sort of a joke between my husband and myself. He jokes that "the secret song" doesn't even exist. Its also fun to keep the joke going.
I often make up songs to make tasks easier. While my daughter waits for her peanut butter and jelly to be made we sing the words "peanut butter and jelly" in a funny way.
We sing all the nursery standards together a million times a day, Twinkle Little Star, ABCs, Itsy Bitsy Spider, etc. Now I get the joy of hearing her sing them on her own. My husband has a knack for picking up words in a song very easily. I sometimes wonder if my daughter will have this gift. She loves singing the songs in "The Aristocats."
I do want to sing with my kids even if I am sometimes insecure about my voice. I have friends (Sarah, Dawn, and Natalie, to name a few) with amazing voices and I love hearing them sing. I know not to compare myself or I would never sing! I am thankful my kids don't care if I can carry a tune right now. My daughter might be later if I am embarrassing her! LOL.

Do you sing to your children? Do you ever get insecure about your voice?