Finding the Right Cleats for Young Children
Finding the Right Cleats for Young Children
Everyone knows that kids grow quickly and having the right shoes is instrumental in not only protecting their feet, but in allowing them the ability to play their sport of choice to the best of their ability.  Here are a few tips for keeping them safe and finding the right equipment.
Tennis Shoes
Many kids choose a sport and lose interest after a few short games. This makes many parents skeptical because they don't want to invest a lot of money into something the child may not enjoy doing. Luckily, kids can play the sport in tennis shoes until you decide that they are dedicated enough to invest a bit of money into the sport. You should purchase a pair of tennis shoes for them to use specifically for soccer, though. These shoes will get grass stains and dirty, so they shouldn't use their good pair of tennis shoes for it.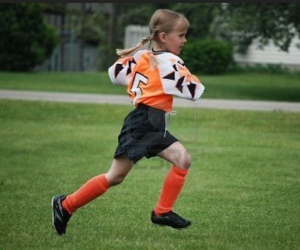 Turf Cleats
Soccer is a popular game throughout the world. In the past decade, the sport has gained much popularity within the states, and many young people are choosing this as the sport of choice over others. Soccer turf cleats are a bit of a hybrid between traditional cleats and tennis shoes. There are no prongs on the bottom, which brings a disadvantage when playing outside but for young children, this is often the only type of cleats they are allowed to use.
These cleats are specifically designed for playing indoor soccer on turf. Classic cleats are not allowed in this type of environment, so players must use turf cleats. They are more sturdy and not as bulky as tennis shoes, which means they'll hold up longer. Plus, the lack of prongs on the bottom make them safer for younger children to play in.
Classic Cleats
These cleats are used by the majority of soccer players around the world. They are cleats in every sense of the word. You will find prongs on the bottom of these shoes that help you get traction when running across the field. These classic soccer cleats make it easy to change directions quickly because the prongs dig into the ground.
It also makes playing in wet conditions a whole lot easier. If you were running around in turf cleats or tennis shoes, the lack of prongs on the bottom would leave you slipping and sliding all over the place.
If you're worried that you child may not enjoy the sport, regardless of your encouragement, it's wise to let them play a few seasons using tennis shoes. As young kids, you may find it safer for them to play in turf cleats until they really learn the game to avoid injury from the prongs on the bottom of the classic cleats.