Group Writing Project: A Family Product I Cannot Live Without, is…My Brestfriend Pillow
DoesMommyLoveIt.com is hosting a group writing project asking readers to write about a family product that they cannot live with out. If you want to participate, you better hurry because the project ends on Sunday, February 24th.

My family product that I can not live without is my Brestfriend Pillow. During the first six months of my daughter's life I used it a minimum of 6 times a day to nurse her. She eventually grew big enough that I didn't need a pillow to hold her. I literally called my pillow "my BFF." If I were going to a family member's house, I would bring it with me and use it there. I tried another pillow (that shall remain nameless *cough* boppy) and it didn't even compare. The Brestfriend pillow straps around you so it doesn't require extra pillows to hold it up. Also, the top is flat so your baby doesn't fall in between you and the pillow. The pillow is also sturdy enough to rest your wrists while you are nursing. The extra pocket was nice to carry my Purelan and pen and paper to write down when I nursed. Washing the pillow was easy, because the outside cover came off and could be cleaned in the washer.
Nursing was extremely difficult for my baby and I to learn. Once I started using the pillow, nursing became infinitely easier. We were both happy.
I love this product so much that I have since bought two more as gifts and loaned mine out as soon as I didn't need it anymore. I also liked that I was able to support my local Lactation Center by making the purchase from their store. They were so kind and helpful to me, I was happy to give back to them in a small way.
I highly encourage anyone who is serious about nursing to invest in a Brestfriend Pillow.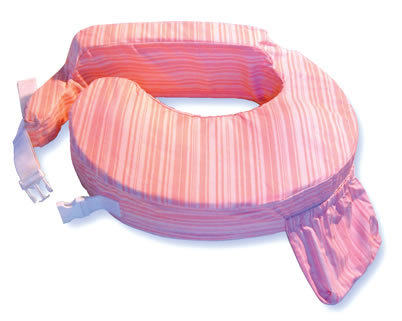 Check out the other participants in the writing project:
Sharon M on Go-Go Kidz TravelMate
Missy on Clorox Disinfecting Wipes
Homeschool Diva on the book "Sentinel" by Landel Bilbrey