Happy World Breastfeeding Week!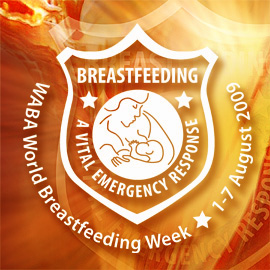 August 1 – 7 is World Breastfeeding Week. The main purpose of WBW is promote breastfeeding in emergency situations worldwide.  An emergency can happen anytime and anywhere. They want to inform mothers, breastfeeding advocates, communities, health professionals, governments, aid agencies, donors, and the media on how they can actively support breastfeeding before and during an emergency.
WHY WORLD BREASTFEEDING WEEK 2009?
Children are the most vulnerable in emergencies – child mortality can soar from 2 to 70 times higher than average due to diarrhea, respiratory illness and malnutrition.
Breastfeeding is a life saving intervention and protection is greatest for the youngest infants. Even in non-emergency settings, non-breastfed babies under 2 months of age are six times more likely to die.
Emergencies can happen anywhere in the world. Emergencies destroy what is 'normal,' leaving caregivers struggling to cope and infants vulnerable to disease and death.
During emergencies, mothers need active support to continue or re-establish breastfeeding.
Emergency preparedness is vital. Supporting breastfeeding in non-emergency settings will strengthen mothers' capacity to cope in an emergency.
In every country around the world breastfeeding needs to be supported and promoted, especially areas where clean water is limited and government conflicts can create national emergencies. Infant mortality rates in time of crisis can be dramatically decreased if a baby who was breastfed can still be breastfeed. "Breastmilk is the one safe and secure source of food for babies, instantly available, providing active protection against illness and keeping an infant warm and close to his/her mother. During the first three months of conflict in Guinea-Bissau in 1998, the death rate amongst 9–20 month old non-breastfed children was six times higher than amongst the children of the same age-group who were breastfed." Even women who are HIV positive can still breastfeed.
"Once an emergency strikes, simple measures can make all the difference in the world to a mother caught up in it. Ensure  that mothers are secure, have priority access to food for the family, water, shelter, and when necessary, safe places to breastfeed (with privacy, where culturally required)."
When Katrina hit New Orleans access to clean water was limited, but mothers who breastfed could still breastfeed their infants. Then they were evacuated to shelters where breastfeeding may have been frowned upon, because it isn't widely culturally acceptable here in the United States. I wonder if there were comfortable places made for women to nurse. I know I feel more comfortable nursing in private another room or using a nursing cover.
So what can you do to help promote breastfeeding in an emergency?
Be Prepared
Exclusively breastfeed your baby until s/he is 6 months of age.  Continue to breastfeed your baby to 2 years or beyond.
Encourage your local mother support group(s) to discuss emergency preparedness. For example, plan ways that the group could staff a safe place for mothers and provide mother-to-mother support to breastfeeding if large numbers of people are made homeless.
Make contact with local emergency authorities and community groups and tell them about IFE.
During an Emergency
Continue to practice optimal breastfeeding.
Offer support to other mothers who are having difficulties or to mothers of newborns in an emergency.
Consider wet nursing if needs are identified, e.g. orphans, very ill mothers.
Help organise safe places for mothers with mother-to-mother support for breastfeeding.
Support from Afar
Identify agencies that support breastfeeding in emergencies and fundraise for them.
*All the information in this blog post is from World Breastfeeding Week's Action Folder. I would highly recommend downloading it and reading it.
How are you going to celebrate World Breastfeeding Week? I am going to keep nursing my 5 month old!
You can ad a twibbon to your twitter profile pic to show your support. http://twibbon.com/join/World-Breastfeeding-Week