How Do You Choose a Baby Name?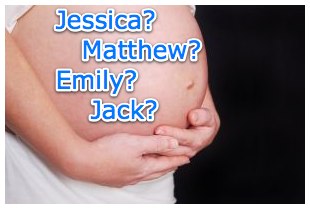 Choosing a name for your baby can be the one of the most fun and hardest tasks when you are expecting.  As little girls we pick out our children's names after we dream about our wedding.  Even on my honeymoon in Italy I was constantly picking up Italian names and storing them for future use.
Sometimes we even get upset if a friend uses the name that you have dreamt about your whole life. Remember when Charlotte on Sex in the City went to a baby shower and found out that her friend was going to use her unique, made up name, Shayla?
Some families have naming traditions. My husband is a junior and we will never have a "Third" or "III." My husband and father-in-law's accounts are constantly getting confused at the library, car insurance company, and our church. Even with nicknames, for our family having a junior is way too complicated.
My second child is due in about 8 weeks! I have checked out almost every baby name book the library has. At night I pour over these books while adding names to my list.
I have some pretty strict criteria for my child's name:
1. It has to be easily pronounced in English and Spanish, so both sides of the family can say the name. I really liked the name Andres and when I mentioned it to my Anglo-momma she announced that she would just call him Andy. This of course made me strike it off my list immediately, since I didn't want an Andy. For our Spanish speakers I have to be careful with J names and names with a double L.
2. I want a name that means something nice.  At least not some horrible meaning like "serpent" or "dimwitted." I actually like the name Soledad for a girl but the meaning of the name is "to be in solitude", so that name is off the list.
3. I don't want the name to be too popular in the United States. When I was born the name Amanda was second in popularity, so there was always two or three Amanda's in my class. In fact, the other Amanda in my class always hated me, because we had the same name. She became the Mandy, while I stayed just Amanda. I am constantly checking the Social Security Baby Names list. My first baby's name was 236 in popularity when I named her. Now that name has climbed to 206 in popularity.
4. The girl's name needs to be feminine and the boy's name masculine. I know gender-neutral names are incredibly popular and some are beautiful. I just don't prefer them. When I worked in Human Resources I had to input people into the system and I would have to check off the male or female box with only their name to go off of. I always fretted over getting this wrong. I also didn't like second-guessing if I should address an applicant through email as "Mr." or "Ms." For me; it is all about eliminating confusion.
5. We also take into consideration what their nickname would be and if the name can be fun of very easily. I love checking Baby NamesWorld to find out this information, because they survey people who have that name.
For our second little one we currently only have four names on our list: two boy and two girl names. We have to select a boy and girl name since we didn't find out the gender. I am currently tired of stressing over this and I am happy with those four. We have only let the names we have picked slip to a limited few and the others will have to wait to be surprised!
How about you? Do you have any strict criteria? Do you care about what other people think about your names? Do you tell what name you picked out before the baby is born? Do you get suggestions from other people? Was it an easy process for you?