How to Teach Your Baby to Stop Throwing Food on the Floor
My 12 month old daughter started throwing her food on to the floor when she was done eating. We don't even have a dog for her to watch eat the food. It made our kitchen floor a mess. I had no idea how to stop her from throwing food on the the floor so I asked McKenna, one of the authors here at The Mom Crowd. She told me that Ace was throwing her food on the floor when she was done, because she had no other form of communication with me.
McKenna said that I needed to do 3 things:
Teach her to put her food in a special place on her tray when she is done.
Tell her "No, we don't throw food on the floor" and pick it up.
Teach her how to sign "all done."
I had never done any sign language before only because I wasn't sure if I really needed to teach it to her and I was being lazy. Hopefully, if I gave her a way to communicate with me, then she wouldn't throw her food.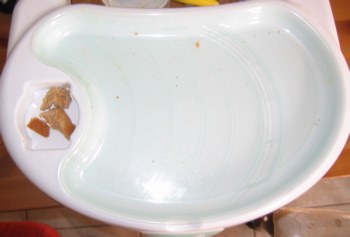 After about a week of being diligent and saying "no," teaching her to put her food in the cup holder of the tray, and signing "all done" my daughter did it! She signs "all done" when I ask "Are you done?" I immediately pull Ace out of her seat when she signs it. An added bonus of signing "all done" is that she looks adorable when she signs it.
She has also learned where to put her food when she doesn't want it anymore. She very rarely throws food on the floor now. It still happens occasionally but it isn't every single meal.
I love that I am able to communicate with my baby who isn't saying many words. I wasn't a huge believer of signing until just recently. I went back to McKenna and asked her to show me some more signs. We are working on signing bread now. Ace will get it.
McKenna's wrote a post on signing called, "Ready, Set, Sign" if you are interested in reading more about baby sign language.
Did you have a problem with your little one throwing food on the floor? How did you handle it?