Oops! I Just Wet Myself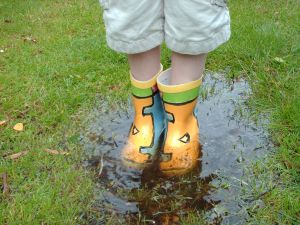 Pregnancy Lesson #236  – If you are hugely pregnant and you have to pee, don't hold it. It is physically impossible to hold it, so don't even try.
You never know when you will be holding your pee, doing just one more thing before the going to the restroom and your husband comes along and makes you laugh. Its starts off innocently with just a drop and you think, "It's okay, it's just a drop." But you are still laughing and it keeps going. Then you are laughing because you are actually peeing and you see your husband realize that you are in fact wetting your pants.
Mortified you just stand there. Luckily you are happy that you are standing on the tile in the kitchen. You look down and realize that your favorite flip-flops are getting wet so you widen your stance a bit so they don't get even more wet than they already are. You chant to yourself, "Pee is sterile. It can be washed. It can be washed."
After it is all said and done your husband valiantly cleans the pee in the kitchen and watches the toddler. All while you shower and put your favorite jeans and flip-flops in the washer.
When you get over the shock of what just happened you are just thankful that it didn't happen outside of your home, that no one else was in the house and it happened on the tile. You vow to never hold your pee again.
Um, yeah, this all happened to me this evening right before dinner! hahaa