True Confessions: How Messy Is Your Mom-mobile?
It's something I swore I'd never do: let my car get messy after having kids.  My car was relatively clean before we had babies, and I thought if I kept up with it enough, it would stay that way once the kids got older.  Pretty naive, huh? 

  I used to be so grossed out by family vehicles, frankly – all the old Cheerios, grubby toys, and crumbs on the seats.  Ick!  Go into my garage, though, and you'll find out that my car is decorated in the exact same way.
A few weeks ago I was surfing the internets and found out about this contest (now over):  Mom's Messy Car Photo Contest. It made me a little relieved to see that this trend is more common than not.  Even though the contest was expired, I got my camera and grabbed a few shots anyway.  Here's a peek!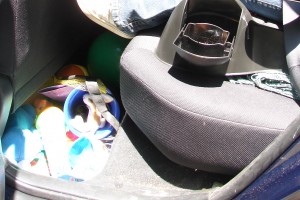 Your standard collection of toys on the floor of the car, almost never played with.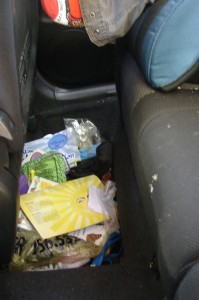 This one shows a bit more garbage, which grosses me out.  How did I let that happen?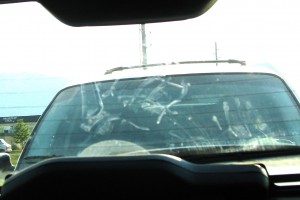 Finally, you have a shot of my daughter's handprints all over the back-inside of the car.  Rest assured, she is not bumping around the back of the car while it's moving.  (If you must know, hubby & I were "discussing something intently" while sitting in a parking lot, and we let her climb over the seats to keep her busy.)  This is the kind of thing I will never get around to cleaning – I barely go through a drive-through car wash, much less take windex & a towel to the interior side of the windows.
I often comment to friends that I desire to have a clutter-free, "Real Simple-style" home, but who are we kidding?  With toddlers, this is just not realistic.  If I prioritize a beautifully clean car, that means I am sacrificing something else: time and joy with my kids.  So for now, the deal is, I let some messes slide in the name of preserving my sanity.  I want to teach my kids how to pick up after themselves, but I don't want to be on them every two seconds about throwing a toy on the car floor.  If Rice Krispies make them happy, I'll vacuum up the dropped ones eventually.  I'm okay with my messy mom-mobile.
What about you?  On a scale of one to ten, how messy is your family car? Do you have any practical tips for keeping it organized?