Are Baby Showers for a Second Baby Appropriate?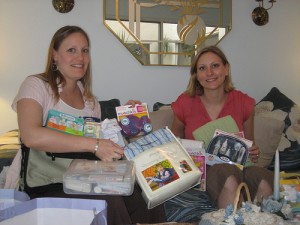 When I was pregnant with my second baby I wondered if I should have a baby shower or even register at a store. A part of me wanted this second baby "off the grid," because Babies R Us likes to sell your information to marketers. According to "Parenting, Inc." by Pamela Paul,  baby showers for second children have become more prevalent in recent years, because of big box stores and baby registries.
Some people think that if you already had one baby, then you already have everything you need to for the second one. Another baby shower could give the impression that you are greedy. Baby showers for a second baby or even a third and fourth can be completely appropriate, here is why:
Every life is worth celebrating! Every baby is significant and birthing them is no easy task! It is important to celebrate the mother, the new baby's family and baby. A new arrival is always exciting.
Baby showers can be fun if the new baby is a different gender from his or her siblings. My friend Natalie had a shower for her first baby girl after having one son. It was a lot of fun to go overboard with the pink, bows, and dresses. She was very excited to be having a baby girl. It was quite the celebration!
Sometimes you do need new baby items. Practically every baby needs diapers. You can shower second time parents with diapers or cards with money to buy cloth diapers.
Baby showers can be anything you want them to be. There is more freedom to have a non-traditional baby shower with your second baby. You can have a BBQ with the guys attending or a girls night with desserts. I like the girls night out, because you can leave the kids at home with daddy.
Have a shower and collect gifts for a local shelter. Let guests know that a shower is being held in your honor and gifts will be given to a local shelter. You can collect diapers and baby clothes for a crisis center in your area.
Baby showers are to celebrate the mother and the new baby. I think we all should be celebrated with each baby we have! How you get showered is up to you.
Did you have a baby shower for your second and third children?
-photo courtesy of rshannonsmith