Happy Cookie Day! 5 Christmas Cookie Party Ideas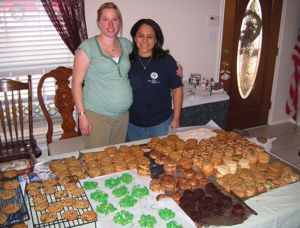 In the last 24 hours I have been invited to 2 different cookie parties happening this month. I don't think that they will be my last two either. This is the first Christmas that my first child will understand a few Christmas traditions and I am so excited!  I am sure she will be elated to know that Christmas cookies are a yearly tradition.
Here are 5 ideas for Christmas Cookie Parties if you are thinking of throwing a party.
Cookie Exchange Party
A cookie exchange party can happen in the evening for a girl's night out or during the days with kids and chaos.  My friend Tashi is hosting a Christmas cookie exchange this year and here are her rules that you could follow as well.
1. Bring 7 dozen of your best and yummiest cookies.
2. Bring 12 copies of your recipe.
3. Bring 1 dozen of your cookies arranged nicely in a basket or platter.
4. Bring a container to take home your new cookies.
5. If you don't have time to bake or have ruined your recipe but still want to attend, just go to your local bakery and pick up 7 dozen yummy cookies.
Cookie Decorating Party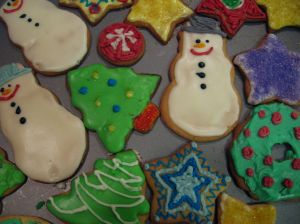 A cookie decorating party is completely fun for the kids and adults during the day time. Everyone can have fun while making a mess and eating delicious cookies.
My friend Jennifer C. is hosting a cookie decorating party and she will be providing the cookies and frosting. If the weather cooperates the party will be happening in the back yard. The guests only need to bring 3 things: (1) their kiddos (who aren't in school), (2) some sprinkles to share, and (3) a take home container.
I am sure you can ask other moms chip in to bring cookies and ask someone else to bring frosting if you don't want to provide all of the elements.
Cookie Bake Day
My family has had a cookie bake day almost every year. All the women get together and bake cookies in the same kitchen together. There is always a line for the oven, we are on top of each other, and making a mess on every counter space available, but it is so much fun! At the end of the day we have massive amounts of cookies and we trade what we made. It's really fun being together and being silly.
Baked Ornament "Cookies"
Perhaps you aren't looking to gain a few extra pounds this December and would prefer a non-edible party – you can always hang your cookies on the tree instead! I have never made these myself, but I really want to this year. It seems like it would be fun do with my kids and other kids as well. Here is a link to make Christmas Dough Ornament Crafts.

Cheer up homeless shelters and hospitals with your cookies!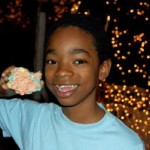 After you have a cookie party you can package them up to give to a local hospital or shelter. You can get the kids involved and tell them who the cookies are for. They could even write a note or draw a picture to go with the cookies. You can even take it a step further and collect children's books to give away along with the cookies. There are homeless shelters with children too. I am sure they would love cookies! A step further would be to gather your friends, family, or church, and provide a cookie decorating party for the children at the shelter. Here in San Antonio, The Strong Foundation, helps homeless families get back on their feet. Check with your local shelter's volunteer coordinator to see if you can help.

Have you ever hosted a cookie party or participated in one? What is your favorite Christmas cookie?