The Risks of the MMR Vaccination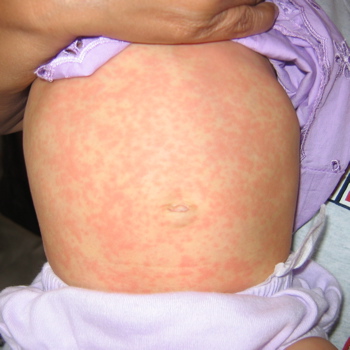 The physical reaction to the MMR vaccination may be old news to parents who have children over the age of 1 but I hope that my daughter's experience will help all those who are coming up on their little one's 1-year check up. I don't intend to give any medical advice here; I am only sharing what happened to my daughter, Annabelle.
The MMR vaccine stands for Measles, Mumps, and Rubella. Children receive 2 doses of the vaccine. The first does is given at 12-15 months of age and the second at 4-6 years of age when they are about to enter school and are at a higher risk of contracting one of the diseases.
Annabelle received the MMR vaccine, Chickenpox vaccine, and Pneumoccal Conjugate vaccines at her 1-year well visit check up. My pediatrician warned me that in 10-14 days she might get a fever and a rash, because of the MMR shot. Exactly 10 days later she got a high fever. She was sick for three days with a fever of almost a 103 degrees and she had funky, runny poop. Then as the fever was finally settling down she broke out in a rash and her face swelled up. My instructions said that the rash shouldn't last more than three days and to call if they turned purple. Thankfully the rash only lasted three days, but she was ill for a total of a week.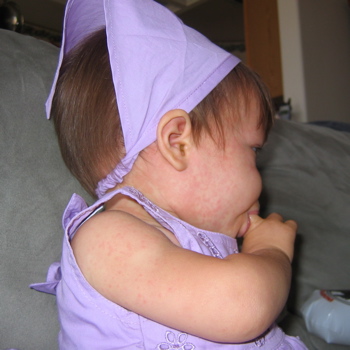 In the bigger picture I would rather my daughter get a fever and rash that goes away, than the more serious risks of measles, mumps, or rubella. The CDC states that 1 in 5 persons will get a fever and that 1 in 20 persons will get a rash from the vaccine. Annabelle was one of the lucky recipients of the 1 in 20 chance.
Some parents choose to separate the vaccine into three different shots to decrease the chance of a reaction. The CDC claims that there isn't any reason to separate the shots and "studies have shown" that parents may forget to schedule the extra visits to receive all the rest of the vaccinations and thereby put their children at a higher risk of not getting vaccinated. I don't know what exactly Dr. Sears suggests on the MMR vaccine, but a recent blog post on his site says that there may be a shortage of the plain Mumps vaccine and gives a few suggestions about how to handle the shortage. The decision to separate the combination shot or not to separate the shot is up to you.
Additional Resources:
The CDC Information Statement about MMR
Detailed Background and History about Measles and Mumps vaccines from The National Academies Press
Related Post:
Did your child have any reaction to the MMR shot? Did you separate the shot into three?