Are you "letting yourself go"?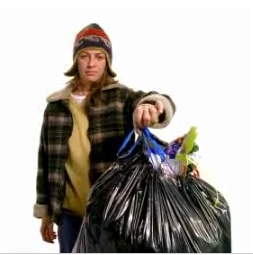 I love the Suave commercial with the woman who instantly changes before our eyes as she goes through marriage and three pregnancies. After the first two pregnancies she has "let herself go" exhibited by her not dressing up to take out the trash and wearing a bunny suit. Then after washing her hair with Suave, she is instantly beautiful and pregnant with the third. I enjoy the art direction of the commercial, but the idea that a shampoo will make me look instantaneously gorgeous is a bit silly. Actually now that I think about it I do look a lot better after a shower.
The commercial claims "89% percent of moms admit to letting themselves go." Really? That many? I find it hard to believe. What does "letting yourself go" mean anyway? I think it means that you don't take pride in the way you look anymore when you once did. We have all seen the moms on Oprah, What Not to Wear, and every other make-over show showing moms that only wear sweats, won't put anything on her face besides Chapstick, and her signature hair style is a ponytail. It makes for great t.v., but does that represent most moms?
I believe that many people think that moms have to dress like we did before we had kids to show that we haven't "let ourselves go." When in fact it is that our work uniforms have changed. I don't have to wear a starched ironed shirt to play with my baby everyday. When I worked in an office I had to dress up in skirts, heels, and hosiery. Now when I shop I don't have to think, "Is this appropriate for the office?" I can buy anything. It's awesome.
There is a slippery slope to choosing anything you want to wear. A nice pair and jeans and a nice shirt can turn into a holey pair of jeans and a t-shirt, and then into pajamas all day. Not that there is anything wrong with staying in your jammies all day, as long as you stay at home! If I venture out of the house, I make sure to put on a nice pair of pants and a decent shirt. Getting showered, dressed, and blow-drying my hair is difficult when my baby is crying in her excersaucer, but taking that time is worth it. I feel awake and better about myself. I can't imagine what it will be like when I have more children, but I hope that I always take pride in the way the way I look.
I recently watched this video of Tim Gunn talking about being fashionable on a budget.
He said, " We have become a nation of slobs. Now I maintain if comfort is your only fashion guide, then 
fashion will always elude you. You will never capture it. There is something about being little cinched and a little starched and put together that is contrary to what it feels like to wear sweats all day. If you want to dress as if you just got out of bed, don't get out of bed!"
I think it is important be a "little cinched and a little starched and put together" to help you maintain a sense of self-confidence in yourself. It doesn't take a lot to look "put together." I recently had an email exchange with the astonishing Gala Darling at galadarling.com. She often gives out fashion advice. Her style (and views) are not my style, but I appreciate her perspective and infinite knowledge of fashion. In the email I off-handily asked her about writing a post on her blog on how moms can dress in a hurry and stay cool.
She replied, "Oh, & I think the thing with being a stylish mom is about having a "uniform" that works — flattering jeans, a great sweater or coat, good boots — & then accessorizing like mad. Wear a great hat or a cool scarf, a beautiful charm bracelet or a precious necklace. Use the accessories to differentiate yourself from the other mothers!"
This is awesome advice! I felt validated that I could wear a great pair of jeans all the time. Pretty accessories don't have to cost a fortune either. You just need to find the "uniform" that works for your own individual style. It is not hard to look like you never "let yourself go" when you make a little effort to take pride in your own beautiful body.
To view the Suave commercial online go to Suave.com, click on "Our Story," then "Advertising," and then "Anthem."