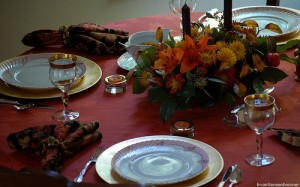 The holidays are a time of excitement and family.  Growing up, we are shuffled to this relatives house or that one's house to see family and eat wonderful meals prepared with love.  As we mature and start our own families, it's only natural that we would want to start our own traditions.  This year, my family opted to have a small Thanksgiving at home with just us and my Mom.  Now, we can't say that this will be our annual tradition, but it's nice to break from the mold once in a while and do something a little different. 
There are certain things to think about before trecking out on your own with holiday traditions:
How will everyone else take it?  It's always important to consider how other family feels about you ducking out of the normal traditions and starting your own, especially if that means not participating in the usual festivities. 
What kinds of things do you want to do?  When merging two families (yours and your husbands) there will obviously be two or more ideas of how to do things.  Sit down and discuss how you both would like your family to celebrate the holidays, what traditions are especially important to both of you and what things you don't want to do. 
How can you get things started?  When starting new traditions, it's not important that you do everything the first holiday.  Don't feel obliged to get it perfect from the get-go.  Remember that your family has most likely been doing the same thing for years and that they started out slowly too. 
I think it's a great idea to start your own traditions and have fun doing it.  Let your kids help out with decorations and cooking/baking.  Let them be a part of incorporating the new ideas and activities so that they feel they connected to the holidays and are not just spectators. 
Have you ventured out on your own and started your own holiday traditions?  What was the most difficult part for you?  How did you get started?
Photo Courtesy of Evan S. Photography