Creative Writing Moms and Literary Magazines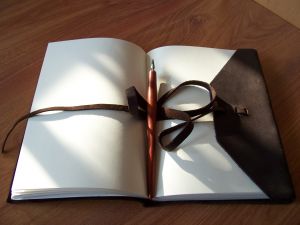 One of my hobbies is creative writing. I was inspired to keep a creative writing journal after reading (most of) Natalie Golberg's book, "Writing Down the Bones." I saw Dawn mention the book on her blog once. It is a collection of short essays giving advice and tips on how to be a better writer. A goal that I am always working on is to become a better writer and story teller.
One way that I have been working on improving my writing is by flexing my writing muscles with San Diego Momma's Tuesday Prompts. Every Tuesday she posts a writing prompt and you must post your response on your blog or in the comments on her site. It is really fun to see what everyone writes. I feel like it is like a Best Shot Monday for writers. Even if you aren't remotely creative with words you should take a chance and try it! You might even surprise yourself.
Online literary magazines are a great source of inspiration for me. I have even thought about trying to write pieces of my own for submission to them. I am not completely sure of the submission guidelines. Who knows if I ever will, but it is a nice goal for me to keep in the back of my head.
Literary Mama has some fascinating stories. I just read "Alpha Mom," by Kelly Fordon. The story was incredibly sad, but it was also really good because it stirred up a lot of emotions in me. I just checked and read that it was a fiction piece. Thank God! The story reminds me of Anita Shreve's novel, "Sea Glass," because the writing and characters are interesting until you get to the depressing ending.
Mamazine is interesting. They pride themselves in writing about other mom interests besides crafts and car seats. I enjoyed and related very much to "First Spoon," By Odarka Stockert.
When I think of online women literary magazines my first thought goes to my friend, Janell's, literary magazine called, The Fringe. I read Jennifer Ann Janisch's Non-Fiction piece "Solo." The whole time I was thinking "What are you doing!?" It is incredibly well written. I was so immersed in her story that I didn't hear my baby crying in her crib after her nap until my husband asked me if I heard her.
Mom Writer's Literary Magazine is another online literary magazine for moms. I related a little too well to Michele Markarian's "Miles in the Morning." My daughter isn't in my face yet, but I hear her in her crib as I pull up my covers and pretend her cries don't exist.
Finally, I read in Literary Mama's blog that TravelingMamas.com "is in search of true uplifting, funny, inspirational, and touching stories with a travel theme for an upcoming anthology series. Possible themes may include family travel, romantic escapes, girlfriend getaways, and solo trips. " The deadline is September 1,2008 and they may even give you $50. Check out the blog post for more information.
Do you enjoy creative writing? How about on your blog? Have you ever read any of these literary magazines? What do you think of them?