It's Okay Not to Love Your Newborn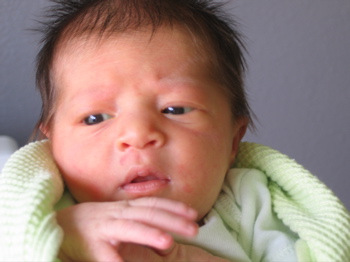 Before I had my daughter I had a few moms tell me that it is okay if I am not immediately head over heals in love with my newborn. They shared their own experience of how they loved their babies, but they did not automatically have a gushy kind of love for them.
One mom told me how one day when her baby was a few months old she was playing with her baby and it just hit her. She instantly fell in love with her baby. Another mom said that it was a gradual feeling and how it took a few months for that overflowing kind of love to come.
I was very thankful for this advice. I was proud of my baby and I loved her, but I didn't have that overwhelming kind of love for her when I brought her home. I was wrapped up in recovering from labor, learning how to breastfeed, guests and dinners, and getting sleep. I didn't really have time to focus on her as my daughter. I was doing what I had to do. I remember I kept saying to myself, "I have a daughter!" Mother's Day was six days after my baby was born and it still didn't sink in that I was a mom. Eventually over a few weeks that ushy-gushy, overwhelming love came. I would do anything for her and I really love her.
I think it is important to remember that we aren't bad moms if we don't immediately love our newborns. For some moms they are instantly in love with their babies, but not every mom is the same. I was thankful that I was warned because it gave me freedom to not feel condemned for how I was feeling. I knew that the affection for my new baby would eventually come.
Did you have any experience with this?