When Do You Feel Normal Again After Having a Baby?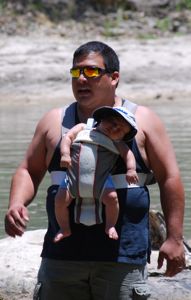 My baby is 3 months old today and I am just now feeling like I am my old self again. After I had my first baby I remember an older couple telling me to wait until the 3 to 4 month mark and life will begin to get back to normal. So far their advice has been right with both of my kids.
Around the 3 to 4 month mark my babies started sleeping longer. They didn't need to be fed around the clock. I even had some of my brain cells back. Now that I think of it, maybe my brain cells are coming back because I am getting more sleep. (If only I went to bed on time!)
Also, around the 3 to 4 month mark my babies started to smile and coo. Seriously, life doesn't get any better than when your baby wakes up smiling every morning. Until that smile comes babies can seem like a chore, especially in the first few weeks.
Melissa recently commented on an older post of mine titled, "Its Okay Not to Love Your Newborn." She wrote:
I too am struggling with my feelings toward my daughter. She is almost 3 weeks old and I do not feel a bond with her yet. I know I love her to some degree b/c I am constantly thinking and worried about her. Maybe that's it. She does feel more like an obligation or a chore than an enjoyment. She cries a lot & I am blown away by the amount of responsibility it takes to care for her. I feel trapped & scared that it will never get better. I want her to hurry and grow then feel guilty b/c I know when that happens I'll regret that I didn't enjoy her at this time. It's very depressing.
I replied to Melissa through email and I explained how things do get better. I have never loved the newborn stage. I am already tired from 40 weeks of pregnancy, labor & delivery, and getting no sleep all while having to learn to care for a new person. I feel like each baby has their own personality and the early weeks are spent getting to know the baby. Both the mom and baby are getting used to each other.
I certainly enjoy the newborn stage as best as I can, but I am always glad when I am on the other side of that mountain. Now that my baby is 3 months old I can see the bottom of that mountain. I can see my life becoming normal again. I am not spending every waking second worried about my new baby.  I am close to getting a full night's sleep again. It is easier to travel. I am incredibly thankful to be on the other side of the mountain that began with first reading those two blue lines.
Do you love the newborn stage? When did your life feel like it was normal again? Did it ever return to normal? Or was it new kind of normal?
* The photo is of my husband and Baby Roman in the Guadalupe River on Memorial Day.