TV Recap & Review: "World's Strictest Parents"

Recap
This weekend CMT premiered its newest show "World's Strictest Parents" (WSP). The show documents the experience of two troubled teens adapting to new rules and consequences with a "strict" set of parents for the week. The hope is that the teens will learn respect and come out better people by the end of the week. In the first episode the Vinton family hosts teenagers, Brittani and Ivan.
17-year-old Brittani drinks, parties, has face piercings, smokes, and talks back to her mom. She lives with her brother and her mom in California. Brittani's mom, Dawn, says that "words are more hurtful than physical abuse" and wonders where the happy, joking daughter she used to know went. She hopes this week will bring some good changes in her daughter's life.
Next we meet 15-year-old Ivan from Jamica Queens, NY. His single mother, Maria, has a hard time getting him to do his school work and worries about his friends. Ivan also smokes, lies, and hangs out with guys who fight. He claims that "they are not going to change me."
"They" are Lisa and Scott Vinton who have a blended family and have three kids, Holly – 21, Travis – 19, and Jeff – 18. When Brittani and Ivan first arrive they laid down the ground rules – no lying, no drinking, no smoking, no face piercings, no slamming of doors, no TV or phone after bedtime which is around 9:00 pm, and they have to do chores. As expected the teens don't like the rules. Brittani gives up some of her cigarettes and Ivan lies about them. Both are eventually caught lying and have to face the consequences. Brittani gets her phone taken away and they remove the door from Ivan's room. They also ask Ivan for his lighter.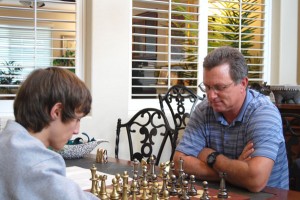 Ivan refuses to give up his lighter and has a sit-out on the couch in protest. Scott goes to sit with him and talks it out. They remain there for an hour until Ivan eventually gives it up. During this time Ivan feels like Scott really "gets him" more than Lisa. By the end of the week Ivan and Scott are male bonding over a chess game where the loser has to jump in the pool. You can really tell that Ivan responded to a guy paying attention to him and building him up.
Brittani and Lisa but heads over the No Piercing rule. Eventually Lisa gives in and seeks to understand Brittani. Lisa includes Brittani on her radio show and asks her to do a teen segment. Brittani talks about judging other people and asks Lisa why she let her keep her piercings in that day. Lisa explains how beautiful she is without them and how people's view of her is different with them. They hug and you can see Brittani starting to open up with Lisa.
On Day 4 the teens receive letters from their moms and visit a Food Bank. Lisa wants to teach the kids that "it isn't always about them." The show concludes with their moms coming to pick up their kids at the Vinton's home. (I wondered why the Vintons told the teens their parents were coming rather than having a surprise greeting at the door.)
Each teen has a debriefing session with the Vintons and their mom. Brittani decides that she wants to help more around the house and appreciates her mom a lot more. Ivan also comes to appreciate his mom more and he is encouraged to work on not lying and to take control of his life. The Vintons are passionate about honesty and integrity. At the end of the episode you can tell that both teens are changed and you hope that they make good choices with their future.
Review
I may not have become a fan of the show, but I have become a fan of the Vinton family. I expected to watch a crazy, irrational, militant family, but I never saw it. They never raised their voice and they didn't debate with the teens. My husband and I really liked how their chore list was taped to the teen's door, so they don't have any excuses about what they were expected to do. Also, their philosphy is that "teens can't think past the end of their nose, so they need parents." They don't expect teens to fully comprehend the consequences of their actions. For every house rule they had, they had a consequence and it was enforced. Overall, the show is not very entertaining and the conflicts are contrived, but as a parent the show is interesting to watch.