Yo Gabba Gabba! is AWESOME!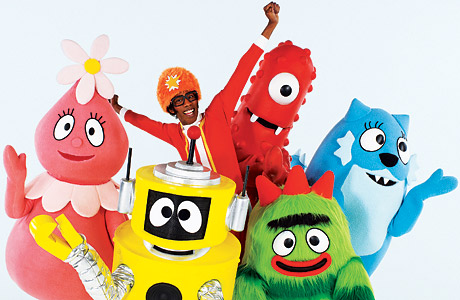 "Yo Gabba Gabba!" is a hip live action children's show with a techno beat that airs on Nickelodeon. Each episode is focused on a social topic like sharing, love, sleep, or eating. The premise of the show is that DJ Lance Rock carries five dolls in his boom box and when you say the words "Yo Gabba Gabba!" all five characters come to life in their own diorama world. According to a NY Time article, the show's title is combination of MTV's "Yo! MTV Raps" and the Ramone's chant "Gabba gabba hey."
The show is collection of live-actions segments, short animations, kids dancing, and band performances on the Super Music Friends Show. Rapper Biz Markie teaches kids how to beatbox and Devo's Mark Mothersbaugh teaches kids how to draw. Some of the guests on the show have included country band Sugarland, actor Elijah Wood, and indie rock bands like The Shins and The Postmarks.
The five characters are Muno the red cyclops, Foofa the pink flower bubble, Brobee the little green one, Toodee the blue cat-dragon and Plex the robot. They are a little weird at first, but you soon get over it and enjoy the show.
The creators Christian Jacobs and Scott Schultz are parents themselves. They produce what they would to watch too and as a result a lot of adults enjoy the show with their kids. I know I do. It is my favorite show that Ace watches.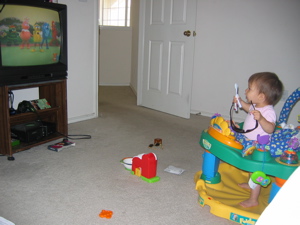 This show is the first show that my 13 month old ever watched. She gets excited when she hears the theme music and even screams and bounces her knees. ( I don't know if it is wrong that I am so excited that she watches t.v. but I am able to get some laundry done!)
Yo Gabba Gabba! is twenty-four minutes of silly fun that might make you sing along and dance when no one is watching or at least wonder what was in your kool-aid. You should check it out!
Bonus Facts:
It is Emmy Nominated for Outstanding Achievement in Costume Design/Styling.
The second season has already begun production. Apparently they filmed a huge band that played at Coachelle in April. There were so many bands at the festival that it is hard to guess but I am sure it is going to be cool.
Did you know that they sell 'Yo Gabba Gabba!' apparel at Barney's in New York City through Kid Robot? Check it out here.
Brace yourself. Clips from the show:
Links:
'Yo Gabba Gabba' Wikipedia entry
* P.S. The title of the post comes from when DJ Lance Rock says "Listening and dancing to music is awesome!" after the Super Music Friends Show.
A lot of my friends either hate or love this show. What side of the fence are you on? Have you seen it? What do you think of the show? What is your Cool Trick?