Traveling a far distance with a toddler can be a daunting experience. After having taken my one year-old on several cross-country flights and a week-long road trip, I felt it would be nice to share some of our successes and failures in case there are any parents out there who are gearing up to bravely take their little ones on their first big trip.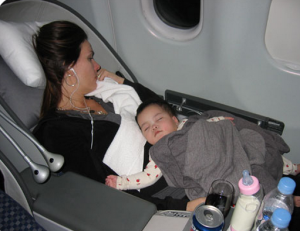 As far as places to stay go, I can't stress enough how much more convenient it is to find a hotel that either offers suites with a kitchenette, which is ideal, or a room that has a refrigerator. Your toddler is going to need somewhere for their milk and other perishable snacks and food. This is beyond difficult to deal with when you are limited to ice machines and coolers. Having experienced both options, I would gladly pay a few extra dollars for the luxury of the refrigerator amenity.
When it comes to flying, there are some things to consider. We have successfully maneuvered our baby boy through long flights and flights with layovers. There are benefits to both depending on what kind of kid you have. A flight with layover gives you the opportunity to stretch your legs and take a break from the plane atmosphere. A direct flight makes for a much shorter day of travel. While a layover can be a nice break, it can also make for a super long day because switching planes takes an hour at least.