TV Review: Jungle Junction & Dinosaur Train
Disney and PBS recently aired two new shows in their fall lineup. Animals on wheels have joined the playhouse and dinosaurs on trains lead in Sesame Street.
Jungle Junction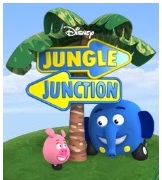 In Jungle Junction a community of animals with wheels as feet live in a road filled jungle and solve problems together. I really enjoy how the show interacts with preschoolers asking them questions and its intentional education. In the episode of "The Treasure of Jungle Junction" I heard them count several times and learn how to share one item.  As a mother of a 2 year old I appreciate the counting reinforcement.
The stories are interesting for both parents and adults. The animation and colors of the jungle are pleasant to watch. I also like the non-American accents of the characters. My daughter was entertained while watching the show and I look forward to letting her get to know the characters of Jungle Junction better. Grade: B
Dinosaur Train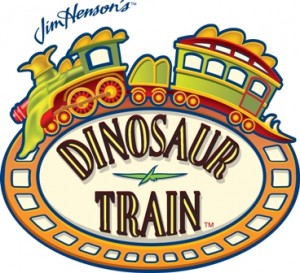 Dinosaur Train combines preschoolers' fascination of trains and dinosaurs. The series follows, Buddy, a Tyrannosaurus Rex who is adopted by a Pterandon family. Pterandons are a flying dinosaur. Buddy asks lots of questions and hypothesizes about nature. His family uses the dinosaur train to travel through the Mesozoic era to meet different dinosaurs and answer Buddy's questions.
I was super excited about this Jim Henson Production and set my DVR for the first week of shows. My 2 year old daughter recently fell in love with trains and we had been reading the book, "Dinosaur Train" by John Steven Gurney every night. She practically has the book memorized. I knew before the show aired that the show was not like the book, but I still had high expectations.
Dinosaur Train is a great show if your preschooler is into dinosaurs. The show is not interactive, but tells a slow moving story.  Preschoolers learn a lot about nature and dinosaurs in the Mesozoic Era, but not much else. Overall I would say the show is average. Grade: C (The theme song gets a B with its funky country western vibe.)
What do you think of these 2 shows? Do your kids love them or are they ambivalent?