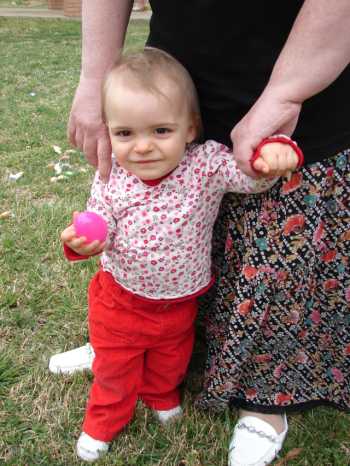 Happy Easter!  This picture of my daughter Lucy was taken two years ago when she was just 1.  I remember that morning like it was yesterday; she had never seen a plastic egg before and had no idea what she was doing with it clutched in her little hand.  Now she's a rambunctious little girl running around saying, "I want more Easter eggs!"  I know she is going to love the annual Easter egg hunt on Sunday morning – and the candy inside them even more so.
As with other holidays, sometimes I get a little overwhelmed with all there is to do.  Do my kids have good outfits for Sunday morning?  Are we going to make a special meal?  Did I get everything I need for their Easter baskets?  (Will I be able to find their Easter baskets?)  My hubby and I decided to take this year easy, since the kids are still pretty young and we've had a busy couple of months leading up to now.
Recently I heard about a simple bread that is easy to make with children that symbolizes the resurrection of Jesus.  After it bakes, it becomes hollow on the inside to represent the empty tomb.  This is a perfect opportunity to enjoy some family time, make a yummy treat, and remind the kids what Easter is all about!  Here are a couple of recipes should you decide to try it:
Feel like playing it old school?  Here is a basic how-to on dying Easter eggs (which is also good for showing your kids), from Kaboose:
What kind of Easter traditions does your family have?  May you have a blessed and beautiful Easter weekend from all of us here at The Mom Crowd!