Ever since 9/11, I've been reminded how life can be taken from us in the blink of an eye. Too many times we hear the "I should have done this" or "I wish I'd done that", but we just never got around to it. Time is short; no doubt about it.
The Bucket List was an adorable movie in 2007, where two men diagnosed with terminal cancer, embark on a mission to cross off items on their "to-do" list. Although I've been blessed with great health thus far, I created one a few years ago and cannot express the extreme satisfaction of completing an item and visually crossing it off my list! What's even more interesting, is the fact that my two, young children created their own lists of "to-do's" with adorable hopes and dreams that I didn't even realize were lingering in the backs of their minds.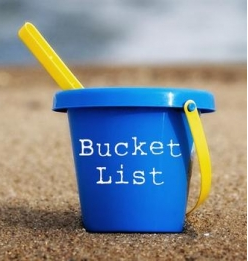 My 10-year-old daughter mentioned foods she hoped to try, places she wished to visit, and of course a handful of Disney and Nickelodeon stars she desired to meet. This had me determined to once again be the #BME! (Twitter hash tag for BEST MOM EVER!). During our most recent cruise, she was able to try escargot (yes, snails) and learned that she actually liked them. Quite a bit even. She and I both haven't been to New York before and it's a commonality on our lists, so I'm in the midst of planning a family vacation there within the next 3 years. Finally, I was able to locate fan mail addresses for her top celebrities and send away for signed headshots. I even follow a calendar of events that shares Disney red carpet movie premieres and she's since collected a handful of photographs and autographs from those stars close to her heart!
We aren't promised tomorrow, so we should live each day with no regrets. Better yet, start doing the things you never dreamt you could. Stop procrastinating! Make a list individually or as a family, and get moving! It even makes for great scrapbook memories to write down, check off when they happen, and note with a date, time, souvenir, and photograph.