Getting Out Of The Mom Rut
It's really hard to stay current sometimes when it comes to fashion.  I am no fashionista.  Most days it's comfortable pants, a simple top and some flip flops.  Since I work from home, I don't really need to go anyplace.  Since we live in a really small town, I don't feel like I have anything to really dress up for.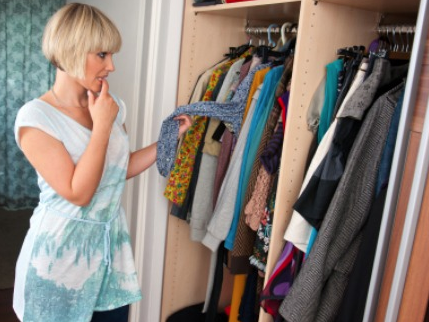 Then the other day, I went to the store and noticed that the lady in from of me was wearing fluffy yellow slippers, sweats and a shirt.  Then it hit me, I was just a pair of fluffy slippers away from officially giving up on what I wear. UGH…….
Since most of us don't have the money for a full head to toe makeover, you can start with this list of five ways to get out of the mom rut. It's okay, it happens to the best of us, but the good thing is, you can totally take control and get your pre-motherhood groove back.
Start with Your Hair
Most of my mom friends agree, get a low maintenance easy to manage hair style.  If you love long hair then get a style that will still allow you to put it up in a pony tail for those time when you are managing sick kids or finger painting but still can style it so you to look put together for date night or those occasional nights out with the girls.  Invest in three everyday hair care products:
A great conditioner that is for your hair style
A great shampoo that is made for your hair type and if you color it
A great leave in conditioner
Invest in Some Nice Jewelry
This one thing can make a bland pair of jeans and a t-shirt look put together and fabulous.  Invest in a few nice pieces that can be staples.  I love to shop online at sites that have amazing jewelry like Fragments Fine Jewelry.  They not only will ship it right to your door but have amazing pieces that you will keep forever.
A couple of pairs of gorgeous drop style earrings will go with just about everything.  You can pair them with a beautiful dress or a pair of jeans and a sold t-shirt.  If you don't like earrings then an eye catching necklace will be a great piece for your collection.  You can get piece in a neutral color that will go with most of your wardrobe or a couple of bold pieces that show a little more flair.
Take Care of Your Hands
Nothing makes your hands look older than nails that are not taken care of.  You don't need fancy acrylic nails to have nice looking hands.  Use a file and keep those nails neat and a little fortifying clear polish to help keep them healthy.  If you want to spice it up you can add a color.  Remember to always apply lotion after housework and dishes to keep them nourished and soft.  I keep lotion every place!  Ify ou have the time, treat yourself to a mani/pedi!
Shoes Count
Don't wear shoes that look ratty and worn.  Keep your tennis shoes clean buy using baby wipes to keep them scuff free and keep sandals clean and free of little strings and loose embellishments.  It makes a difference because this can show just how out of the fashion loop you are.
Make Yourself a Clothing Promise
Make yourself a clothing promise that unless you are exercising or on your way to exercise, you will never wear sweats, yoga pants or other "for the gym only" pants and tops when you are outside the walls of your house.  Just tell yourself you need to put on real clothes because you are a real person that counts.  This helped me so much when I got caught in the mom style rut.  I'm not saying you need to pull out your little black dress for couponing at the local Target but you should wear clothing and not workout attire.
I have tops that are strictly for when I am going to be out of the house.  I don't wear these tops for changing diapers, doing yard work or house work or even for lounging around the house.  That way they are always spit up and sticky fingers free, at least till I get the kids out of the car!
Do you have any tips for getting out of the Mommy Fashion Rut?  Let us know!  We would love to see your mommy style tips on our Facebook page!