Bathing Your After-Newborn-Stage Baby
One of our family goals for 2008 is to bathe our baby at least twice a week. She doesn't crawl yet, so she doesn't get that dirty. I know I am not the only one! My baby is too big for her newborn bathtub. I am not sure what to use next, because they don't go over this stage when you make your baby registry. So I compiled this resource list of bathtubs and techniques you can use to bath your baby after they have grown out of their newborn tub.
Inflatable Tubs
There are many moms who love their inflatable tubs, because they travel well and work well inside their bathtubs. Consumer Reports has a different take, "There are also inflatable tubs that fit inside a regular bathtub to give your baby a padded space to bathe but we don't recommend those either because they can be dangerous." Consumer Reports never says how they are dangerous. With every baby tub we must use common sense and never leave a child unattended for second.
Especially For Baby Noah's Ark Inflatable Tub, $12.99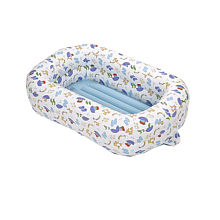 This tub has a 4.5 star rating out of 5 on babiesrus.com. Most of the user reviews rave about the tub. 2 of 36 reviewers said it leaked and another mom said that it didn't fit her twins. Overall, it looks like a good buy if you want an inflatable tub.
Muchkin Duck Bathtub, $9.99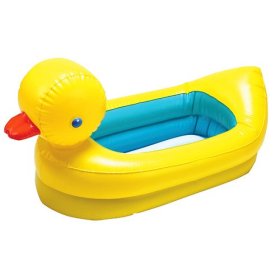 I have a friend whose daughter absolutely loves her duck bath, but one user review said that their baby was scared of the duck! Another review mentioned that you couldn't see the cute head when the baby is sitting in it. The main draw back is that you cannot fill it directly from the faucet, because the sides are too big. Also, the tub does not drain fast enough.
Bath Seats
One option is to transition into a bath seat. Be careful not to buy a bath seat that uses suction cups to hold the seat in place. Consumer Reports issued a warning in April of 2007 explicitly stating that suction cup bath seats should not be bought, because babies have fallen over and got stuck under the seat. With other consumer organizations, Consumer Reports have actively pursued the Consumer Product Safety Commission to ban the seats.
Safety 1st Tubside Bathseat, $24.99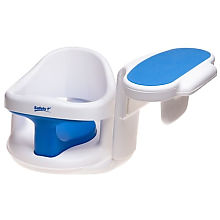 This seat is for babies from 5 to 10 months. My friend passed this seat down to me and I have only tried it once. Ace screamed the whole time she was in it and we couldn't figure out how to wash her bottom. While a lot of moms like the seat, some of the complaints are that their baby got stuck, it is hard to clean and store outside of the tub.
Dream Baby Fold-Away Bath Seat, $19.99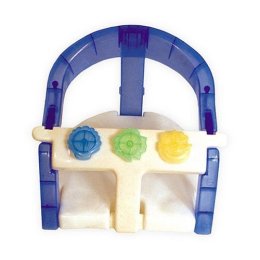 This seat uses suction cups, so it can only be used on smooth tub surfaces. The front bar opens to make it easier to take your baby out. Most of the user reviews find that this product isn't great, but okay. If used properly it can get the job done.
Transitional Tubs
An infant-to-toddler tub may be good buy, because it will grow with your baby. Some of these tubs use a padded clip on sling to hold a newborn and then can be taken off when your baby can sit up. Other transitional tubs use an inclined seat for newborns that adjusts as your baby grows into a toddler.
Fisher Price Aquarium Bath Center, $28.49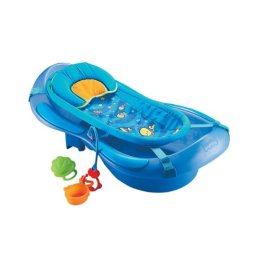 This seat is really popular and comes with a pouring cup, a toy, and another toy that doubles as a thermometer. There seems to be a bump in the tub that either hits your baby's bottom in the hammock position or hits their back while sitting up. I probably would not buy this for the after-newborn stage, because so many reviewers complained about this bump in the tub.
The First Years Sure Comfort Deluxe Newborn-to-Toddler Tub by Learning Curve, $16.99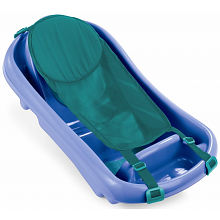 Both Babiesrus.com and Amazon.com users rate this 4.5 stars out of five. It fits in the kitchen sink and the tub. Also, the plug changes color if it gets too hot, but sometimes it doesn't work. There are a few complaints that it is too short for long babies, but other moms disagree. You would probably have to test it out for yourself to see. I have a similar newborn tub to this one and really liked it. With so many great reviews for this tub, I may be spending my money on this one.
Bathing in the Sink
There is nothing wrong with using the old-fashioned sink to bath your baby. I used the sink in our hotel room while we were traveling in the Philippines to bathe our baby. Be careful of the faucet, because it can be hot and they may bonk their head. You can also line the bottom of the sink with a towel to keep them from slipping. The kitchen sink is also great, because it saves your back from bending over.
Jumping In the Tub With Your Baby
According to Dr. Sears you can calm a baby who screams every time they bathe by jumping into the tub with them. He suggests getting everything ready and then hold your baby close while slowly bringing them into the water. He also suggests while you are getting the hang of bathing with your baby you may want to hand your baby to someone else when you are getting out the tub. I spoke with one mom who does this with her kids and she loves the special bonding time she gets with her babies during bathing time.
Extra Resources:
How To Bathe Your Baby
Baby Bathtubs: Safety Tips
Dr. Greene on Bathing Your Baby
What To Look For When Buying Bath Seats
Features to Consider When Buying a Baby Bathtub
Where do you bathe your baby? Have you used any of these tubs or techniques?