This is a guest post from my friend, Dawn Craig.  I saw on Facebook that she did not recommend the movie 'Astroboy' so I asked her to explain. Here is Dawn's review of the movie.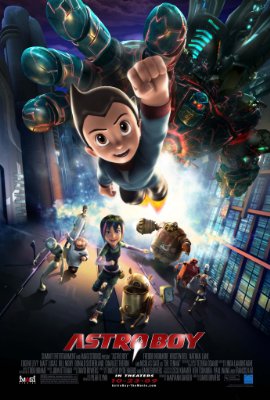 What ever happened to movies that are capable of portraying a valuable life lesson in a manner that is suitable for children? My husband and I recently took our two daughters (6 and 7) to watch Astroboy for what we thought would be a nice, entertaining evening – instead I spent almost the whole movie comforting my youngest and worrying about the nightmares they would have that night. I should have known things weren't going to go well when within the first five minutes the little boy Toby (later referred to as Astroboy) is killed by a huge robot named the "Peacekeeper" (created by a government official to help him win his next term in office.)
Toby's dad has a meltdown, (which any parent would do under the circumstances), and creates a robot identical to his lost son, including all of Toby's childhood memories. Shortly after his creation, Toby's dad rejects the boy and orders him to be destroyed. Another scientist saves the young boy and instead tells him to go find his purpose in life and sends this robot child out into the world alone. At this point my kids are already asking why his daddy wouldn't want him and where was he going to go. I thought at this point it couldn't get any worse and that surely the producers wouldn't maintain this negative storyline throughout the whole movie – I was wrong.
The movie continues on with scenes of orphans being manipulated by the only father-figure in their life, numerous attempts to kill Astroboy, the "Peacekeeper" destroying the city, the second death of Astroboy, and so much more. In the end obviously the good guy wins, but unfortunately the much too negative path to get there disallows any positive message to be seen.
I can understand and appreciate a writer's need to create storylines that not only entertain the children but can hold the adults attention as well. Unfortunately it seems they keep continuing to push the line and have lost sight of the impression they can have on a young mind. Needless to say I wouldn't recommend this movie to anyone with small children.
Have you seen the movie? What did you think? Also, have you seen Where the Wild Things Are? Would you recommend it?