Monthly Family Budget Meetings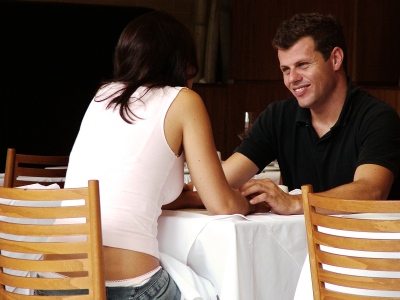 In the past ten months my husband and I have both quit our regular day jobs. We know that it wouldn't have been possible to pursue our dreams if our finances were out of control. About three years ago we were both were working full-time jobs making more than the national family average and we had nothing to show for it. Our net worth was negative. We decided to take charge of our finances and learn about money. Since then we have paid off more than $50,000 of debt. The biggest tool that got us under control was a budget. This post is not about how to make a budget, but simply the act of getting together and trying to set a budget for your family.
Around the first of each month my husband and I get together and have a family budget meeting. We discuss how we want to spend the money that we are going to earn that month. Famous financial guru Dave Ramsey, says that when you budget, you're spending on paper, on purpose, before the month begins. We use a zero budget and give every dollar a name. We never have to wonder where all our money went, because we knew where it was going before the month even started.
Getting together monthly helps us to plan out our calendar and our finances accordingly. We look to see if there are any birthdays or holidays that we want buy gifts for. We always know when Christmas is coming, so we know we need to save for it. Looking at the calendar also helps us be on the same page with how we are going to spend our time.
Our finances reflect our family and personal goals. We both want to lose weight, so we spend money on a gym membership. We both want to get out of debt, so we spend everything we can to pay off the student loan. We want to travel, so we save for a trip. It is important to talk with your spouse to determine and agree on your priorities. For us, we decided that traveling and technology takes priority over furniture and fixing up the house. It is easy for us to make decisions with our money, because we both know our priorities.
No matter who does the actual act of paying the bills, both parties need to participate and agree on where the money is being spent. Dave says that there is always a "geek" of the family who does the number crunching and bill paying. My husband is definitely the "geek," but I know that my vote counts. I believe that this does amazing things to build trust and strengthen our marriage.
When we meet we both bring a list of all the things that we want and need to buy in that month with a dollar amount attached to it. Then we prioritize the list. This month I need new contacts, so that is pretty high up on the list. I also want to buy Ace an Easter outfit and get some pictures taken this month. So we fit it into the budget. I know I may not get everything from my list that month, but we will either start saving up for it or we will get it the next month. For spontaneous items we keep a small "blow money" category for each of us. I know I am going to get a couple bucks in cash every month to buy whatever I want. I don't keep track of where my "blow money" goes.
It has taken us a long time to figure out our budget and how we go about creating our spending plan. Meeting on a monthly basis works for us. I have read about others that meet weekly. It doesn't matter when you meet. The important thing is that you meet with your spouse. There is amazing peace in your marriage that spills over into your family when you aren't fearful about money. We set the example for our kids. I want to instill good financial skills in my daughter, but I know I need to model them first.
Here are some pointers from Dave Ramsey about budgeting:
Give it 3-4 months to start working. It won't be perfect the first time you do it.
Spend every dime on paper before the month begins.
Over-fund your groceries category. Most people underfund that category.
Husbands (if applicable) need to loosen up and quit using the budget as a whipping tool on their wives.
If married, spouses need to do the budget together. The preacher said ". . . and you are ONE."
Additional resources: