Product Comparison: Straw Cups
My son, Connor weaned from the bottle to the straw cup. I chose to transition him to the straw cup instead of the sippy cup for several reasons.
Straw cups were easier for him to hold because they don't require tilting.
Straws are EXCELLENT for oral motor strengthening and speech development.
A sippy cup is just one more thing to have to wean from. He can use a straw until he's an adult!
Sippy cups can contribute to speech problems and dental problems, so I wanted to avoid them if possible.
However, this isn't my article on convincing you to use straw cups with your child. This is my article comparing the trillion different straw cups out there so you can choose the right one for your child! The one thing consistent in all straw cups on the market is leaking. I haven't found one cup that is completely leak proof, but some are definitely better than others!
Munchkin's 10 oz. Insulated Straw Cup – Mommy and Connor's Pick!

Munchkin's wins in our house as Mommy and Connor's favorite straw cup on the market. This cup is durable and has lived through many of Connor's throws. The straw is nice and soft and Connor really enjoys drinking from this cup. While it leaks (like every single straw cup on the shelves), I have found that it leaks the least out of all of the straw cups I've tried. The fact that it leaks minimally and is not too difficult to clean makes this straw cup my pick. The price is steep at $6.97 on Amazon.com, however I paid $4.99 at my local grocery store for mine. I love the Dora, Diego, and Backyardigan prints, but am not fond of the Spongebob Squarepants prints. I had to wait for a new shipment to come in to avoid buying the Spongebob print because he's just a little too mature and obnoxious for my kids in my opinion.
Playtex Baby Einstein – Highly Recommended!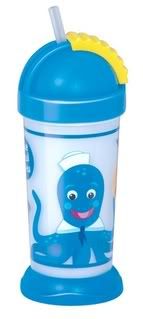 This is my second favorite of the lot. The reason I love this straw cup is cleaning time! The valve is a plug, so you can unplug the valve and clean the straw very easily. All of the other straws are attached to the valve and cleaning is a little more difficult…not impossible, but more difficult than this one! I also love the fun Baby Einstein prints that are age appropriate. This cup leaks more than the Munchkins, however if you make sure the lid's not screwed too tight, the leaking will decrease. Overall, this is a great straw cup!
Take & Toss Straw Sippers – A Must-Try!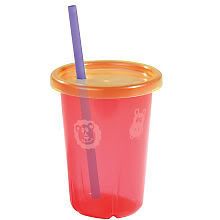 Obviously, the price is GREAT! For $2.99, you get five cups. That's $0.60 per cup and you can't beat that in the overpriced baby market we live in! There are no valves, so these cups make for easy cleaning. Even though there are no valves, the leaking is not as bad as I thought. They don't leak any more than some of the other straw cups that have valves. The lids are very sensitive. If you press on the top of the cup, the contents will travel quickly up the straw. I've had a lot of counter messes when using this cup. The straws are not very soft. They are a thick plastic and Connor does not enjoy drinking from these cups. I do keep these cups in stock for extended day trips, friends who come to play, and as back-ups when I am way behind on my dishes.
Gerber Cool Twisties – Not very durable.
The price is not too steep at $3.95 per cup. The straw is nice and soft and Connor enjoyed drinking from this cup. I also like the fun space design on the cup. Cleaning this cup is not very difficult. While Connor loved this cup, and the price isn't too bad, I can't recommend it for a couple reasons. This cup can do some major leaking! Connor is in the stage of throwing things when he's done (that's another blog post!) and he has broken two of these cups. He throws all of his cups, but these have been the least durable. Overall, I'd probably not purchase this cup again due to the fact that they can be easily broken by throwing toddlers!
Luv n' Care's 2 Handle 8 oz. Cup – Don't waste your money!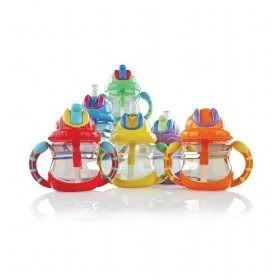 This cup is my least favorite. There are some good things about this cup that I'll share with you. This is the only straw cup I've found that has handles and I love the short squatty shape in contrast to the long stretched shapes of the other cups. The price is GREAT at $3.99 per cup. I bought a two pack for $5.99 at Babies "R" Us. The straw is super soft and Connor really loved drinking from this cup. I also didn't have too bad of a time with the leaking. While it has many good features, it has a couple problems that keep me from recommending this cup. The straw is three separate pieces. One of the pieces is incredibly small and it is very difficult to put together. It is also incredibly difficult to clean because there is a valve on both ends of the mouth piece. Once you take this straw cup apart, it is incredibly difficult to put back together. If the maker would correct these problems, this would be my favorite straw cup on the shelves.
Check out these links about straw cup drinking:
Mommy Speech Therapy's take on straw cups over sippy cups
How To Teach a Child to Drink From a Straw
Sippy Cups Causing Too Many Cavities