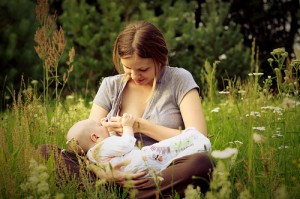 My baby boy is almost 7 months old and he is still exclusively breastfed. However, I am not loving breastfeeding as much as I did with my first child. With my first child I had planned on weaning her at a year, but I wasn't ready and ended up nursing her for 14 months. (I wrote about my decision to continue breastfeeding here.) I stopped at 14 months, because I started throwing up every day with morning, noon, and night sickness with my second pregnancy. I think the fact that I have been either pregnant or nursing for the last 3 years is taking a toll on me.
All the reasons why I want my body back are completely selfish. I can't leave for extended periods of time. My baby is still waking up 3 times a night to nurse. Because he has been waking up around 10:30 p.m., I can't even go out after bedtime. My nipples still get raw and sore sometimes. Logically I know these reasons are not a big deal.
As much as I selfishly want breastfeeding to end, I selfishly want it to keep going. I love not doing dishes. I love that I don't have to learn a whole new skill of mixing formula and finding which bottle or cup is best. I also really love the bonding time with my son. It is fantastic that my 2 year old daughter sees her brother being fed and knows that breastfeeding is completely normal. I love it when she offers to feed her brother and pulls her shirt up.
I also love that it is the best possible source of nourishment I can give him. To be perfectly honest, I am terrified of formula. I know some women have to use formula and choose to use it. Everyone is entitled to their own opinion. But for me formula is not really an option.  As long as I can produce milk his first year of life, he will get boobie milk.
I have mentioned before that I am marathon training and this adds extra stress to my breastfeeding relationship. On my long runs I am gone from the house for 4 hours. I nurse my baby before I leave in the morning and he wakes up hungry. I don't have a pump anymore. I would have to increase demand my pumping daily to increase my supply, because I don't make extra milk.
I contacted Heather at RunFasterMommy.com, because she has trained for a marathon and breastfed at the same time. I asked her about supplementing formula on the days I have long runs. I also asked Heather if it was selfish of me to supplement. She said that it wasn't and gave me some tips on how to do it. Heather also pointed out that if I gave up my training that I would grow to resent breastfeeding.  I couldn't agree more. My pediatrician also said I could keep training and to drink tons of water.
With my pediatrician's help and some full sized samples from her huge stash of formula, my husband now has a tool in his toolbelt if our boy is crying a lot and can't wait to be nursed.  We have not had to use the supplement yet, but we both feel better knowing that we have something that we can give our baby if I can't make it home fast enough. I hope that I won't have to use the supplement.
For now I am going to keep up breastfeeding and enjoy this precious time, but a part of me can't help but count down until it is over too.
- photo courtesy of c r z