How Much Sleep Does a Mom Need?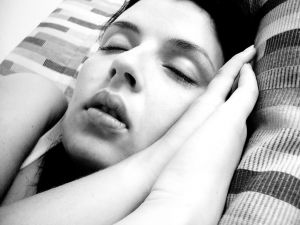 I am incredibly protective of my children's bedtime, but I don't watch my own bed time at all. I have not gotten a good full night's sleep in over six months. My breastfeeding 6-month-old boy is still waking up 2 to 3 times a night to nurse. Before that I was hugely pregnant and didn't sleep well with all that kicking and heartburn. Sometimes I really believe that it is God's grace that keeps me going. Many nights I only sleep about 6 hours.
It is incredibly tempting to stay up late after the kids go to bed. This is my time. I can  watch what I want on television, hang with my husband, get online without interruptions, read, clean or go out with friends. I LOVE the night time!
I have also recently started training for a marathon. I have to get up around 6:15 a.m. and get my miles done first thing in the morning, because of the hot weather and our family's schedule. My husband takes care of the kids when they wake up, but I still need to get back quickly. My baby boy needs to nurse and my husband has to get to work when I get back. I try to get bed early the night before a long run, but even then I find myself staying up reading a book.
I know I need more sleep, but I don't do anything about it. I love that I get to stay at home with my kids and can move slowly in the morning if I need to. Somehow I recover the next day. I get dressed and get done what I need to do without complaining. I am the one who chose not to go to sleep. My son goes to sleep at 7:00 p.m. So even though he still wake up 3 times a night, I have no excuse not to get to bed at a decent hour.
Perhaps I can just function on little sleep. I think a lot of moms do. The amount of sleep I get is something I have been thinking about this week. What do you think? Can you function on little sleep? Do you notice a difference in your attitude if you do get better sleep? How much sleep do you really need to function well the next day?