Southwest Airlines Kicks Off a Mother and Toddler From Flight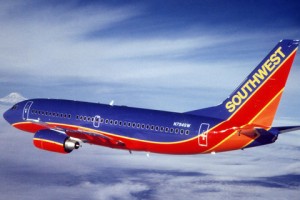 Last week Southwest Airlines escorted a mother and her 2 year old son off a flight to San Jose, CA, because he was screaming "Go Plane Go!" and "I want Daddy!" according the Associated Press. The crew was concerned that the passengers could not hear the safety briefing to abide within FAA guidelines. The mother, Pamela Root, assured the attendants that her son would be quiet after take off and that she had planned to feed him while in the air. Southwest Airlines has since apologized to the mother, refunded her money, and gave her a $300 dollar voucher for a future flight.
I first heard about this story from a Facebook status of a friend that was applauding Southwest Airlines. Many of the comments of the status were in full agreement with the decision. As a mother of a toddler I was initially flabbergasted and angry.
I understand that the crew had a real concern with the safety announcements, but I really wonder how loud was the child. I read that the crew made offers of juice and colors to calm the boy down.
Some days are better than others when I go out shopping with my toddler. I know when to call it quits and try again at another time. Perhaps this was one of this instances where you just need to try again later, even if you are inconvenienced. Or do you just get through it? Thankfully the mother didn't have to make a connecting flight or miss any major events.
I am glad that Southwest Airlines apologized, because this could have a set a bad precedent for future flights with kids. It would not be good if any flight attendant could remove families at their discretion for small matters. I wonder what would have happened if this took place in another country?  Cathay Pacific very kind and understanding when I flew with a 7 month old baby. The flight from Los Angeles to Hong Kong had several children, but everyone seemed to recognized it was just a fact of life and got through with the flight.
This incident on Southwest Airlines ended up not being a huge deal. The mother flew out the next day which I can only assume to have been a much easier flight, since she and her child did not get kicked off again. I hope it doesn't happen again to another family. Otherwise, those of us traveling with toddlers may be in for some trouble!
Do you have any traveling stories with toddlers? What would you have done in that situation? Did the attendants make the right decision?
More on traveling with children: