Survival Tips for Your Baby's First 3 Months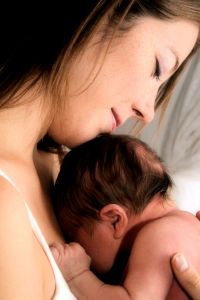 My second baby is 6 weeks old and I am in Survival Mode until he can sleep longer than 4 hours at a time. It is tiring managing two kids schedules, breastfeeding, diagnosing illnesses, dispensing medications around the clock, not to mention any regular household chores, and just getting to say hello to the husband. I really never expected it to be this difficult adjusting to 2 children.
Some wonderful women have shared with me some great advice on how to survive this phase.  Here is some of what they said and what I am living by at this moment.
Don't look down! Don't look at your floors or even the sticky breakfast table.
Cartoons to entertain siblings are perfectly okay!
Don't be too proud to accept any and all help.
Keep an eye on the light at the end of the tunnel. Remember that this phase doesn't last forever!
Don't beat yourself up with what you haven't done. If your kids are good, then you have done a great job that day!
Put off the diet, until you can get sleep and function!
Sleep whenever you can.
Get out of the house once in a while on a play date or by yourself after bedtimes.
It is okay, if you never get out of your pajamas that day.
Don't stress so much about the quality of food the siblings are getting, just as long as they eat.
It is okay to say no.
Enjoy this time, because they grow so fast.
Remember you are a GREAT mom! Don't be so hard on yourself!
What helped you get through your baby's first weeks?