1 Day, 18 hours, 2 Parents & 2 Kids Traveling by Car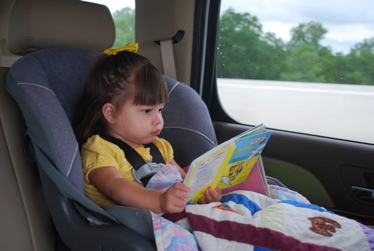 I am late getting my post up today, because I spent 18 hours traveling by car with my husband, 2 year old daughter, and 4 month old boy. We came home to San Antonio after visiting Dawn and her family in Hunstville, AL last night. I hadn't seen her in person in 11 eleven years. Our families had a great couple of days hanging out together.  On the drive there we drove to Memphis from San Antonio and spent the night. Then continued the last 4 hours after a visit to the Memphis Zoo the next day. My kids were champs throughout the entire trip.

Here is how we handled traveling with 2 kids under the age of two.
Both of my kids are still in diapers and I think this helped the potty situation. It was easy to pull over and change diapers or just do it whenever we stopped for food.
Driving most of the way in one day, spending the night, and traveling a short distance the next day worked for us.  The morning after a day of driving we went to the zoo to wear out my daughter. We got back in the car, ate lunch, and she slept most of the 4 hour drive.  On the way back we didn't spend the night, but we spent an hour and a half in New Orleans to give us a break from the road and the car seats. While the New Orleans stop added to our overall traveling time, it was worth it to eat some yummy beignets and stretch our legs before the last haul home.
I brought plenty off of snacks and toys for Annabelle. One of my favorite traveling toys are the Crayola Color Wonder No Mess Markers and coloring pad. My daughter can color to her heart's delight without coloring the car or herself.
We borrowed a DVD player from friends and had plenty of Dora DVDs. We waited as long as we could on both trips before we even let her see the player in the car. Once the player is on no other toy will do. Also, for my daughter she doesn't fall asleep watching TV. Both times she watched about 4 hours of Dora straight and never fell asleep once even though she was incredibly tired.
To get my daughter to nap I wouldn't give her anything else to eat or play with. She would sit there bored until she finally decided to close her eyes and sleep.
As we were traveling we didn't stick to a lot of rules with Annabelle. We did try to get to her to nap, but other than that we did whatever that would keep her comfortable and happy.  Although, after the first day I think I let her eat too many sweets on the drive while watching Dora. She was incredibly hyper our first evening in Memphis running up and down the hotel hallway and jumping on the bed.
My 4 Month Old Boy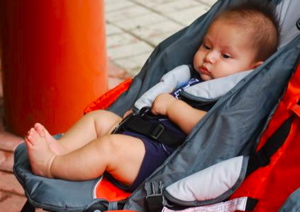 My baby boy, Roman, is 4 months old and he had a harder time dealing with car than my 2 year old. He is still breastfed so I would have to get him out to feed him, but there wasn't anywhere to lay him down and really let him stretch. Sometimes we would have to get him out of the car seat and just hold him for a while to calm him down. He did sleep a lot on the trip and didn't cry a lot until the last leg home, when he was just done with being in a car seat.  Even though he was with us, we both missed each other.
Overall, my kids are champs and did great being in their carseats for extended periods of time. We drove a rented Tahoe and I think this also made the drove more comfortable for them as well. I hope my story will help you if you are planning to do a road trip with your kids!
Have you done a long road trip with your kids this summer? How did it go for you? What did you do?