5 Alternatives to Drinking Alcohol While Breastfeeding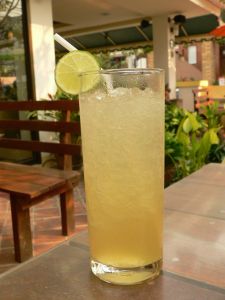 I live in San Antonio, TX, home to the Alamo, warm weather, and Mexican food. Naturally, a cold margarita goes with the latter two. When I was pregnant with my first child all I wanted was a cold, sour, lime margarita from Paloma Blanca. So before we started trying for our second child my husband treated me to one of those margaritas, because I knew it was going to be a while before I could have another one after pregnancy and breastfeeding.
Each breastfeeding expert seems to have a different stance on drinking alcohol. March of Dimes says absolutely no drinking. La Leche League says to consider factors such as your weight, the baby's weight and age, the amount consumed and how long after drinking you nurse. Dr. Jack Newman says some alcohol is okay, "Prohibiting alcohol is another way we make life unnecessarily restrictive for nursing mothers."  Other folks say as long you don't feel drunk you are okay to nurse. Each mother needs to weigh the risks and decide for themselves.
In my own experience I don't drink any alcohol until my baby is sleeping through the night and down to about 2 or 3 feedings a day. This way I can be sure that I am not putting my baby in any unnecessary risk.  While I wait a few months until that time comes I have to find other ways to enjoy a night out, relax, or have fun at party.
Here are 5 alternatives to drinking alcohol while pregnant.
1. Enjoy a non-alcoholic drink.
When I was pregnant and on a date with my husband I sometimes felt silly ordering a virgin strawberry daiquiri. It wasn't the same. I would suggest ordering a special lemonade or any other kind of fruity beverage. Maybe even the waiter could help choose a good non-alcoholic drink from the bar that is not on the menu. If you live near a Sonic Drive-In, stop by and get a fun beverage before a party.
You can also make your own fun drink at home. Here are 5 recipes from the 734 non-alcoholic drinks listed on drinksmixer.com:
Bora Bora
serve in Highball Glass
Scale ingredients to servings
10 cl pineapple juice
6 cl passion-fruit juice
1 cl lemon juice
1 cl grenadine syrup
Prepare in a blender or shaker, serve in a highball glass on the rocks. Garnish with 1 slice of pineapple and one cherry.
Afterglow
Serve in Highball Glass
Scale ingredients to servings
1 part grenadine syrup
4 parts orange juice
4 parts pineapple juice
ice
Mix. Serve over ice.
Canadian Pride
Scale ingredients to servings
2/3 oz maple syrup
3 oz grapefruit juice
3 oz dry ginger ale
Shake and strain into a collins glass three-quarters filled with broken ice. Add the ginger ale, and garnish with a slice of grapefruit.
Classy Cricket
serve in Collins Glass
4 oz pineapple juice
1 oz creme de coconut
1 splash cranberry juice
2 grenadine syrup
1 oz cherry juice
cherry garnish
In Collins glass, or tall cocktail glass, add all ingredients over ice. Transfer to shaker and shake well. Pour entire contents into glass and serve. You may garnish with a Marischino Cherry if desired.
Lemon Daisy
serve in White Wine Glass
Scale ingredients to servings
3/4 oz fresh lemon juice
1/2 oz grenadine syrup
1/2 oz simple syrup
7-Up® soda
soda water
Stir the lemon juice, grenadine and simple syrup together in a white wine glass. Add ice, top with equal parts 7-up and soda water, and serve.
2. Chocolate, Ice Cream or Dessert
Unwind in the evenings with a piece of chocolate. Splurge on a fancy chocolate bar. Make some brownies. Enjoy a small bowl of ice cream. I recently bought a bag of semi-sweet chocolate chips. I  leave my bag of chocolate chips in the fridge and I snack on a few every now and then. If you are out on a date get dessert instead of a drink. You may not get to enjoy a fizzy or icy beverage, but you can look forward to the delight of a delicious dessert at the end of a meal.

3. Tonic Water with a Lemon
This tip comes from personaltrainerz.com if you are going out to a bar with friends and you don't want to make a big deal about not drinking. (Although, I can't remember the last time I have done that!) The author says, "Take a moment to talk to the bartender, tip him a little and make sure he keeps you full or Tonic Water & Lemon all night. Your buddies will think it's a Gin & Tonic or Vodka Tonic and won't give you much lip."
4. Order an appetizer
If you aren't into sweets and having a dinner at a restaurant order a yummy appetizer that you wouldn't normally order. Sometimes, I am bummed that I can't order a drink while my husband enjoys his beverage.  So I will treat myself to a little something extra to make up for it.
5. Enjoy an activity that relaxes you
Mothers want a glass of wine or a little something to unwind from the day. Instead of using a beverage to unwind find an activity that will help. This could be reading a book, taking a long shower, watching your favorite TV show (*cough* Late Night With Jimmy Fallon), having a quiet time, or taking a walk.
Sometimes it does stink when you want a drink and you can't have one, but the benefits of breastfeeding is worth it! I am always encouraged that I won't be breastfeeding forever. While I love that I get to breastfeed, I am glad it comes to an end eventually!
What decision have you made about drinking alcohol while breastfeeding? What do you do instead of drinking? Do ever feel bummed that you can't sometimes?