UPDATED: 5 Ways to Deal With Playground Bullies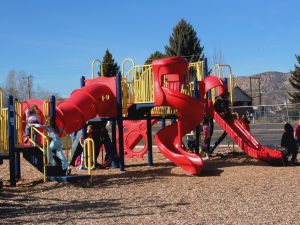 At the beginning of the summer I wrote this post in response to a reader question about playground bullies and I am glad I wrote it.  After reading all the comments I became a lot more confident in confronting other people's children and speaking to their parents. I don't play playground police every time, but I am certainly protective of my little 2 year old daughter, Annabelle.
While my daughter stood in the top of a large play set I noticed a 5 or 6 year old boy hovering and blocking her way on purpose. Then he bent down in her face and yelled. I was horrified! I saw the boy hovering, but she was up in the play set and I didn't know what to do. I didn't think he would scream in her face. She started crying and I coaxed her to another part of the playground for toddlers. The boy followed and was standing close and following again. Every time he came near her she started crying again.  I didn't hesitate this time and asked him to not yell at my daughter and to play on the big kids play set. Then his grandfather came over and I explained that the boy was screaming in my daughter's face. He only got defensive and said that he couldn't watch both his grandsons at the same time. He did seem  overwhelmed with both boys, so I didn't press it further. If the mother or father had been there I would have pressed the matter. It was very obvious that he was bullying.
In another instance we were at an indoor playground. I was pushing my daughter back and forth in a U shaped foam mat. Three older and larger boys came up and wanted to push her too and were trying to talk to Annabelle. One of the boys was leaning on a foam column and he reached to rock her. She stood and said "No!" and pushed the column he was leaning on. The boy fell and hit his face on the foam column and started crying. I totally laughed at first. I knew the boy was fine. He went to his mom and was crying to her. I went over and explained that he only hit his face on the soft mat column. I was glad that my daughter stood up for herself. These boys may not have intended to be bullies, but I am still befuddled why they would want to play with a 2 year old girl.
Last week there was a 3 or 4 year old boy throwing mulch on the kids as they went down the slide. I went up to him and said, "Hey Little Man, Let's not throw it on the slide. How about you throw it on the bench or over here?" I was just redirecting him to throw the mulch where no one else was. He looked at me confused and just stopped. One girl came up and thanked me for getting him to stop. I never saw who was his parent, but it made me feel good that not only did I help my child but the other kids on the playground too.
I do not correct other children all the time, but I will say something if I see that my child may get hurt. Don't be afraid to speak up on the playground!
Original post:
Summer is here and the playgrounds are full (unless you live in Texas and the 100-degree weather makes the slides feel like 150-degrees.) While at the playground your child may encounter bullies. What do you do?
Grace recently emailed us and asked this question about bullying in the playground:
Today at a playground, my 2 (almost 3) year old son was bullied by another toddler around his age.  The boy was throwing things at my son's head and his mom wouldn't do anything about it.  I tried to just keep my son away from the boy, but he would just run up to him and smack him in the head and run away.  I decided to confront his mom about it and she just denied it ever happened since she didn't see it (she was talking to another mom at the time).  I got really upset of course and my son was too afraid to play anymore so I had to hold him since he couldn't stop crying and I eventually decided that we should leave since it seemed to be too dangerous for my son to play with the bully running around.

I don't think I handled the situation in the best way possible.

- What do you do when you see another child hit your child? My son
just stood there and cried and I just tried to comfort him.  I
didn't feel that I could scold the other child because I was afraid
his mom would get upset with me for doing so.

- What do you say to the parent?  What if the parent denies anything
ever happened?  What if the parent doesn't do anything about it even
after confronted?
I think there are a few ways that moms can deal with playground bullies. Not every way is right and not all are wrong. The way to handle a bully certainly depends on each specific situation.
1. Leave with your child and don't say anything to anyone. While removing your child from a harmful situation may be a good thing, it doesn't teach the child causing harm or your child anything. It may also send the wrong message to your own child, because it doesn't teach them how to deal with conflict in a healthy manner. It may teach them that conflict should be avoided at all costs. This world is full of conflict and we need to teach our kids how to handle it well.
2. Speak to the mother or guardian present at the time. This is what Grace did in her situation. Dawn and I both agreed that we would have probably done the same thing. Hopefully, that parent will get on to their own child for misbehaving. However, in this situation the mom did not correct her son. I think if you plead your case with the parent and they do nothing, then it is okay to go and speak to their kid yourself.
3. Speak with the child who is being a bully. If that mom gets mad at you for correcting her child, then let them say their piece to you and don't worry about it. At least, you can leave knowing that you tried your best to correct the situation. In other cases that mom may even thank you for correcting their kid. I know one time a bigger girl was kicking my not yet 2 year old daughter while she was sitting down at the top of a slide. My protective mama instincts came out and I immediately told her in a stern voice to stop kicking my child. Her mom never said anything to me about it.
Amelia thinks that in this situation talking with the kid would have been okay.
Had I been in [Grace's] shoes I would have told the boy to stop hitting my kid.  I feel that (especially with a 2 year old) it is important to be an advocate for your child and that if another child is doing something to your child then it is perfectly fine to say something to the (wrong-doing) child.  Something like, "It is not polite to hit." Or, "Stop hitting my son." Then if it continues, saying something to the parents is appropriate.  If someone takes an issue with you telling their child to stop hitting yours–it is their problem.  Most parents will see what is going on and discipline their own child.  Unfortunately there are parents who are losers and deny that their child could ever do anything wrong. In that case, I still think repeating whatever you said to the kid earlier is appropriate.
4. Teach your kid to hit back. (Again, not all of these ways are exactly right or wrong.) I do know one mom that has told her son that if another boy hits him first, then it is okay if he hits back. They want him to be able to defend himself and not always be a tattletale. They feel like their son is already a little whiny and sensitive, so this is their way of teaching their son to buck up.
5. Embarrass the other mother. One mom shared her story with me about how her son did hit back when he was hit by another kid. So she went to them to intervene and started to get on her son. She said loud and clear to her son "Who taught you to act like that? Some moms let their kids act like that, but I don't!" She looked up and saw the other mother fuming. Perhaps this tactic may work, because that parent may have on gotten on her son later for embarrassing her.

What do you do if your child is being picked on at a playground? What would have done in Grace's situation? Does the age of the children play a role in how to deal with a bully situation?
- photo courtesy of bullyinguk