A Peak Into My Nursery
My little girl celebrated her first birthday with a party at our house this weekend. So I decided I should probably finish putting her nursery together, you know, so I can show it off to all my family and friends. Luckily Ace can't talk yet and complain about my wall color choice or beg for Dora posters. The nursery still isn't complete. There are two blue v-shaped floating shelves that I am waiting for my husband to hang.
We started the nursery when I was pregnant. We didn't find out the gender so we wanted a gender-neutral room. Also, we are planning a second child some time soon and I didn't want to re-theme the same room for the second one. I am way too cheap frugal that way. We chose a light lime/apple color for walls. We matched the wall paint to a pair crib sheets we picked out. Then anchored the room with white furniture and blue and orange accents.
The Room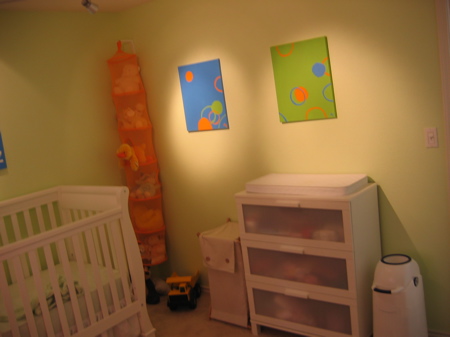 * Diaper Champ! love it. Gift from baby shower
* White Dresser from Ikea – $69.99
* Changing pad from a baby shower gift.
* Oatmeal laundry basket – Gift from baby shower
* Dump truck from my niece.
* Orange hanging storage unit from Ikea – $4.99. This is a great place to store all those bazillion stuffed animals that we receive as gifts. Really, how many stuffed animals does a girl need?
* Dimmer on the wall from Lowe's – $20
* Art by me.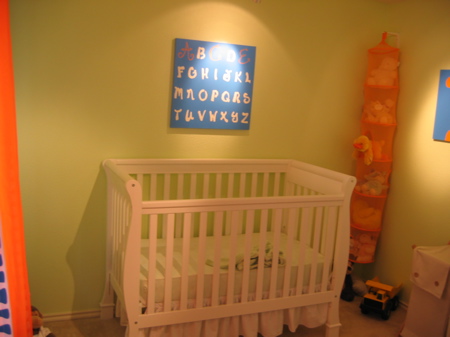 * Crib from Babies R' Us – A gift from my in-laws and Uncle at my baby shower!
* Sage Gerber Crib Sheet from Babies R' Us – $7.99
* White Dust Ruffle from Babies R' Us – $17.99
* Art by me.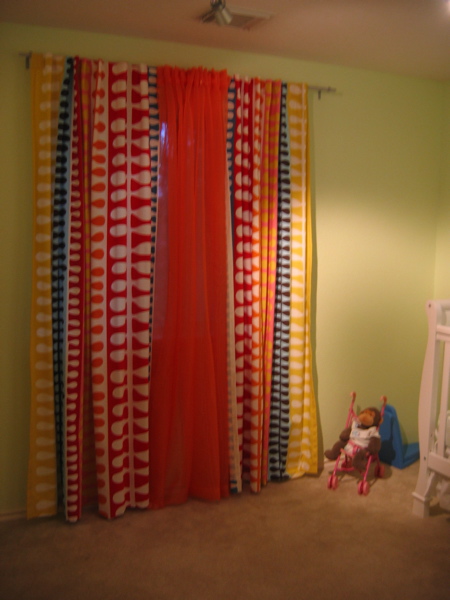 * Do you see the strange blue things in the corner? Those are the two blue wall shelves from Ikea that need to be hung – $6.99 each.
* Hedda Multicolor curtains from Ikea – $29.99
* Bright orange sheers from Ikea – $14.99 for a pack of two
* Curtain hardware from Ikea – $3.99 for rod – $1.49 for hardware.
* Marley the monkey and stroller were gifts.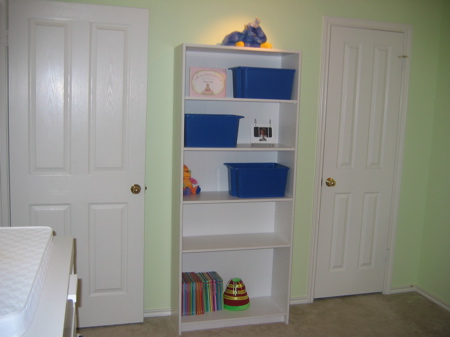 * White bookshelf is a hand-me-down from my friend, Barb.
* Blue storage bins from Ikea – $1.49 each.
* Books, frame, and stuffed animals were gifts.
The Closet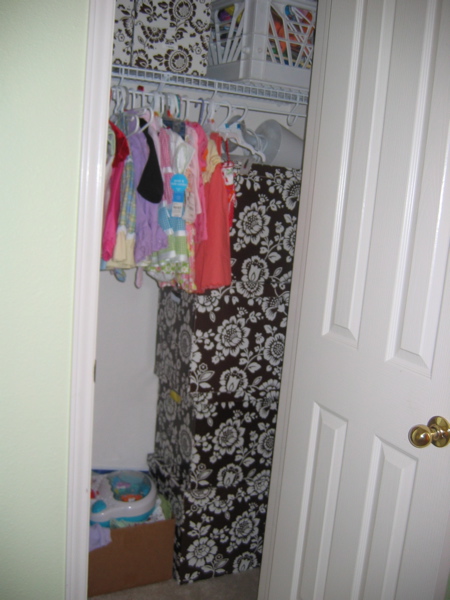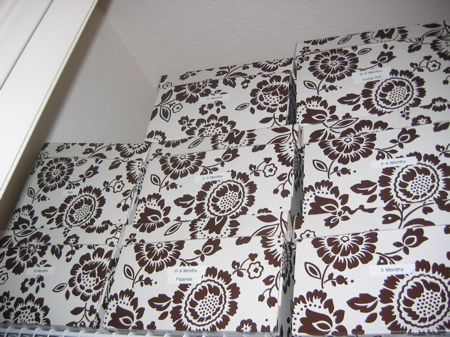 * Large storage boxes from Ikea – $6 for pack for 2.
* Small boxes for clothes (notice: they are all labeled!) – $3.99 for 2.
Lighting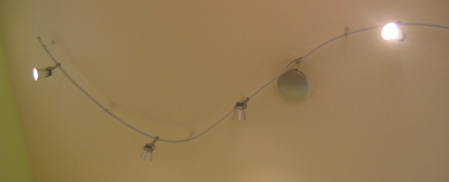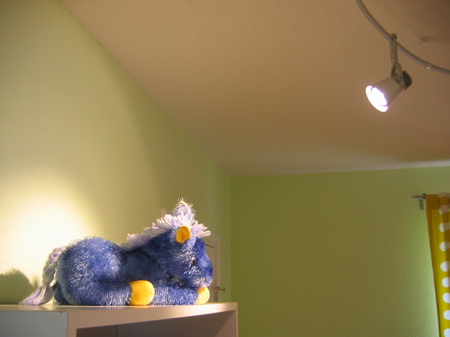 * Magnesium Spotlight System from Ikea – $69.99. I saw a picture of a nursery with cool track lighting and found this alternative. They were really easy to install. We also added a dimmer. I also like how the S-shape mimics the pattern in the curtains.
Art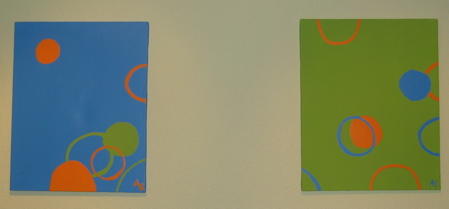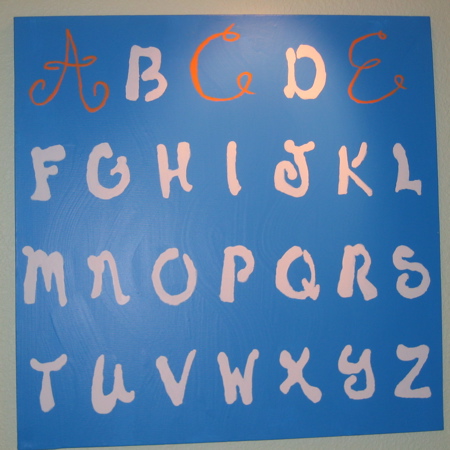 * Canvases were a total of $35. I can't remember. Brushes – $3. I used leftover wall paint for the paint. I am not an artist and this was my first attempt. I used to see abstract pieces of art and think, "I could do that!" Now I know why art costs so much. I didn't have the right paint and my skills simply aren't the best. I did these really quickly last week.
* The circle art is inspired by Essence-Chocolate and Essence-Blue from art.com.
* The alphabet piece highlights my daughter's initials in orange. I remember seeing a website where they would create an artwork piece with your child's name highlighted in the alphabet. It just worked out the A,C, and E are the beginning for me.
Putting together Ace's nursery was incredibly fun for me. Can you tell I love Ikea? Did you put a nursery together for your little one? Do you kid's room have a color palette or theme?
We'd love to see your nursery or kid's room – post a picture or video to your blog or to flickr or YouTube (etc) and leave a link in comments below!