Bye Bye Binky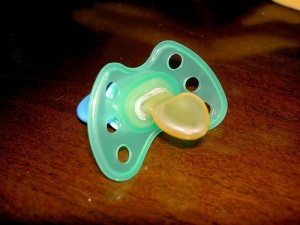 As our daughter's second birthday approaches at the end of this week, I keep thinking how much she needs to get rid of that little baby thing… the binky!  Neither of my kids took a pacifier as babies, they preferred Mommy and I was ok with that.  Our oldest transitioned well after weaning, but my daughter, weaned at 17 months, had a much harder time.  I thought that offering her a pacifier might help the transition, but now I wish I had never started down that path.  What I thought would be a helper during naptime and bedtime has turned into a constant obsession with the "beep beep". 
I thought about using the "Paci Fairy", but as smart as she is, I think it might be a little over her head at barely two.  I thought about just throwing them away, but that just seems incredibly cruel.  So, now the goal is to keep them up and out of sight during waking hours and only bring them out for sleep times.  Basically, it's like weaning from the breast all over again, just without the physical pain for me.  Hopefully in the next month, we'll be totally binky-free. 
This is just what we chose to do, but here are a few other prevalent ideas out there for saying "bye-bye" to the binky:
Binky/Paci Fairy - Have your toddler collect all their pacifiers in a bag and hang them in a tree or put them in the mailbox before they go to bed.  Explain to them that the fairy comes and gets all the old pacifiers so that the new babies can have them and in return the fairy leaves a special toy.  (Personally, I've only had one friend have success with this one, but her little one was almost three years old when she tried it.)
Cold Turkey - Like every other definition of cold turkey, this method involves just taking the pacifiers away all together with no prize or reward. 
Pacifier to Toy Swap - This is an interesting method that involves having your toddler gather all of their pacifiers and taking them to a toy store to use their pacifiers as money for wanted items.  Let your toddler pay for their toys with a bag of pacifiers while you slip the cashier the cash.  (Similar to the Paci Fairy, except it's a direct exchange that the child has some control over.  This could be very useful for independant children.)
Weaning - Basically, this was my method of choice.  Slowly offering or allowing the pacifier less and less until it is no longer wanted or needed.  This may be the slowest method, but makes it a little less traumatic for the toddler.
How did you say bye-bye to the binky in your house?  Did you try any of these methods without success?  Any advice for us novices?
Photo Courtesy of timsamoff